This article will provide an in-depth guide on setting up your product listing layout, focusing on integral components such as the categories menu and recommended products. We will also discuss additional features for a more tailored shopping experience.
On This Page
Selecting the Layout
To begin customizing your product listing, you need to navigate to Settings > Visual settings > Products Listing on your webshop's portal. Here, you'll find a host of options to choose from.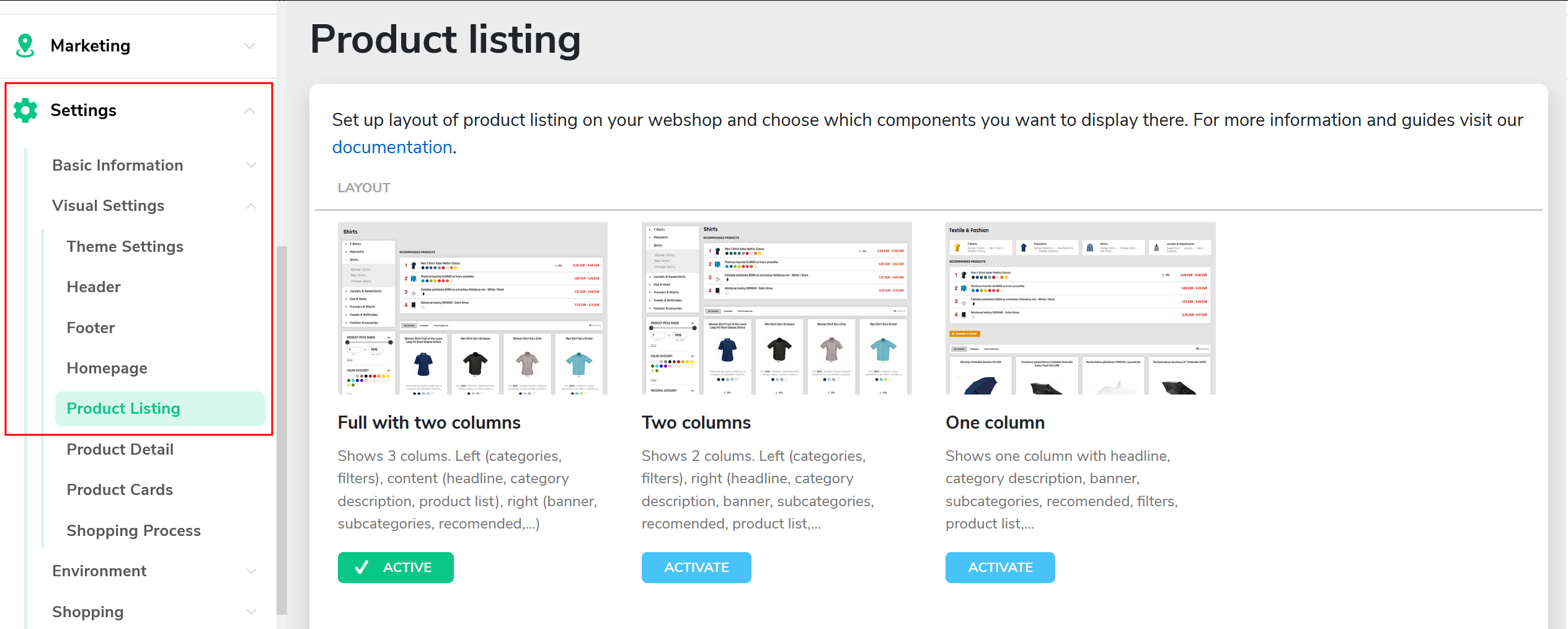 Firstly, you need to decide on the general layout of your webshop. You can choose between a full-width layout with two columns, a two-column layout, or a single-column layout.
1. Full Width with Two Columns
This layout option will divide your webpage into two columns and extra middle part:
The left column includes categories and filters to help customers quickly find what they're looking for.
The central column focuses on content such as the headline, category descriptions, and the product list.
The right column can be used for banners, subcategories, recommended products, and other engaging content.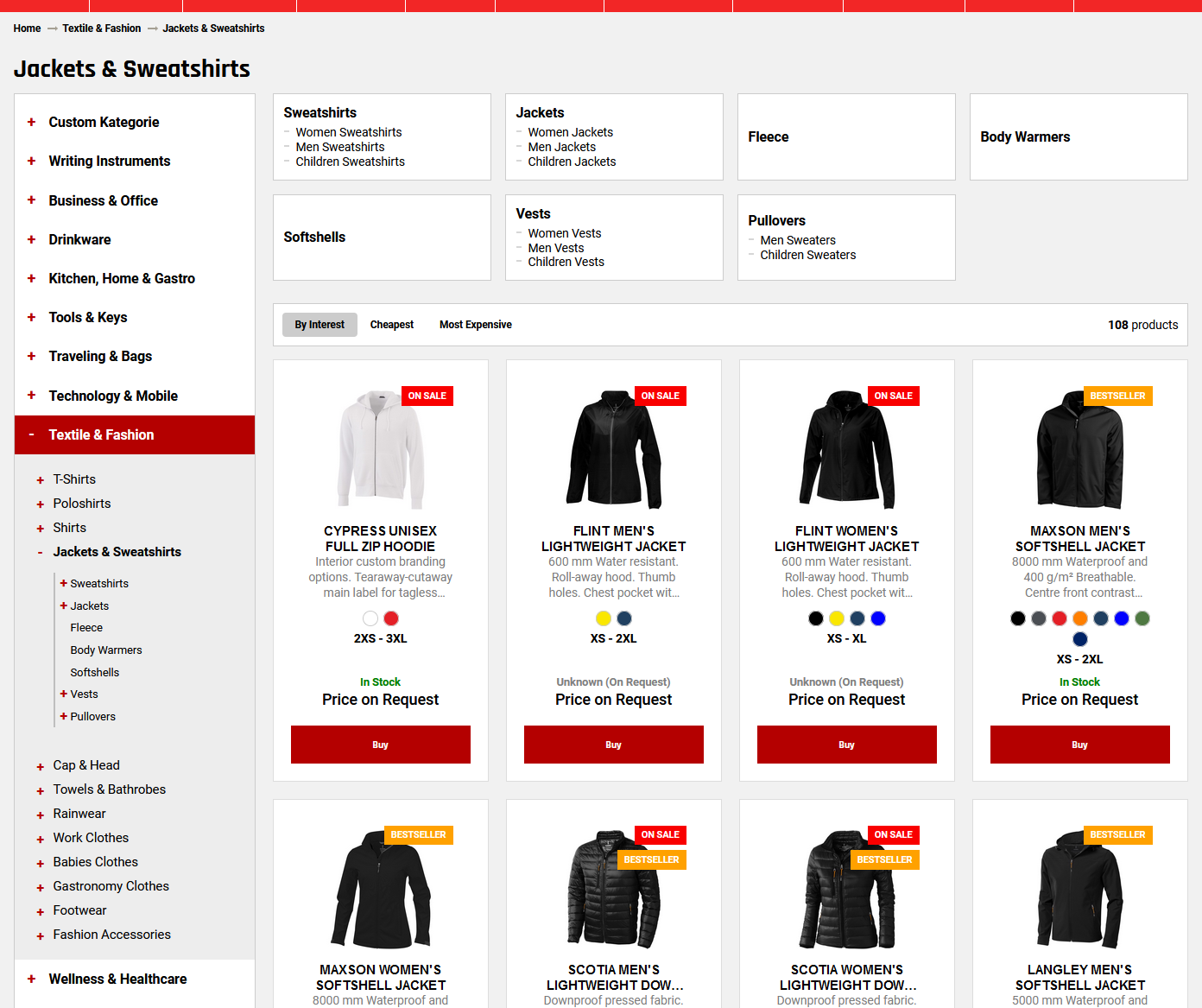 2. Two Columns
This layout condenses the content into two columns:
The left column comprises categories and filters for product discovery.
The right column serves as a multipurpose space for the headline, category descriptions, banners, subcategories, recommended products, and the product list.

TIP
This layout is a great choice if you want to give equal importance to product listings and other types of content.
3. One Column
This layout option presents all content in a single, streamlined column, including the headline, category descriptions, banners, subcategories, recommended products, filters, and product list. This layout ensures a focused and uncluttered shopping experience.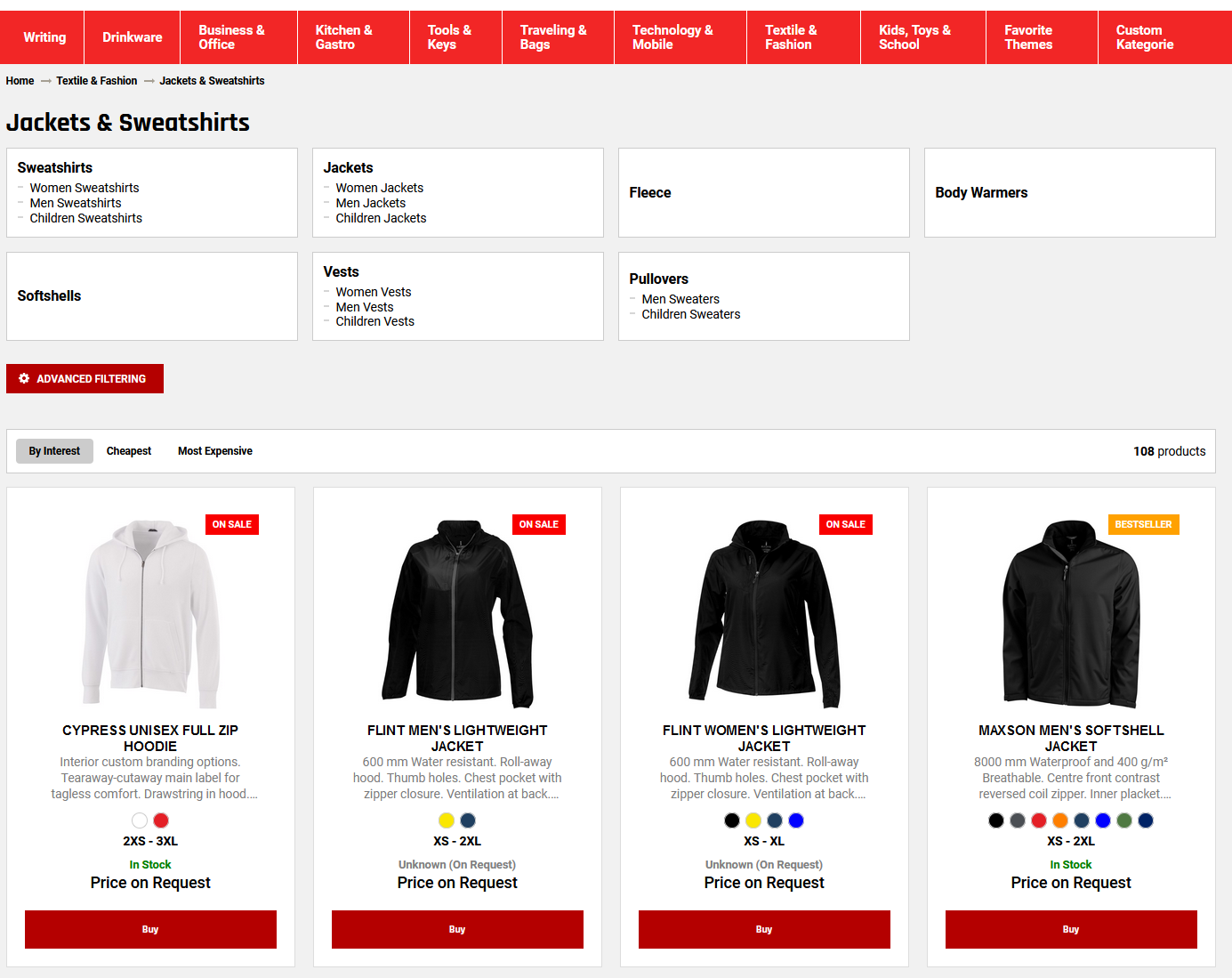 General Setup

1. Number of Products per Catalog Page
Specify the number of products that will appear on each catalog page. A balance between product quantity and aesthetic appeal is important to ensure easy navigation while providing an array of options to engage the customer.
2. Use Infinite Scroll
Incorporate the infinite scroll feature, which lets customers endlessly scroll through your product listings, eliminating the need to navigate to new pages. This creates a fluid browsing experience, coaxing customers to spend more time exploring your store's offerings.
3. Show Filters
Enable the filters feature, providing customers with the ability to refine their product search based on attributes such as price, color, size, and more. Filters enhance the user experience by simplifying the product discovery process.
4. Show Last Visited Products
Activate the 'last visited products' feature to remind customers of items they have recently viewed.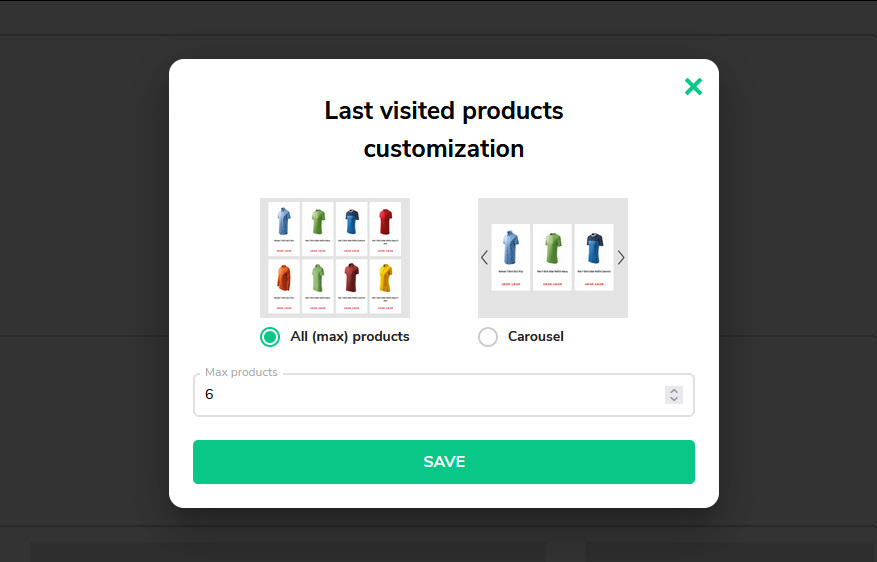 This encourages revisits and potentially stimulates additional purchases. In customization you can set the number of products.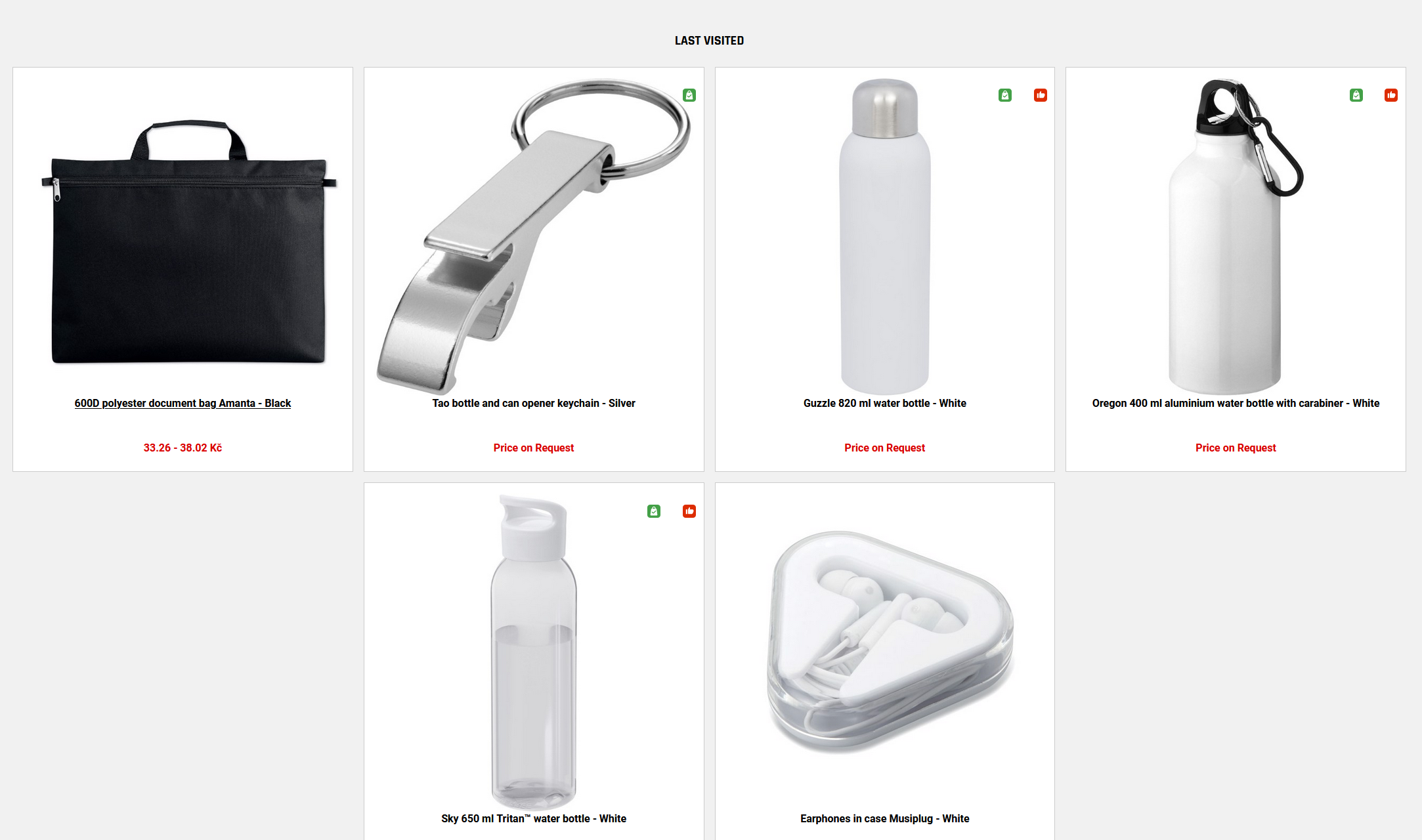 5. Show Enquiry Form
Integrate an enquiry form for customers to easily ask questions or request more information about a product. This facilitates better customer relations and builds trust.


Struggling with setting up your product listings?
Our service offers expert support to optimize your listings, craft compelling descriptions, and provide strategic guidance for better visibility. Reach out to us today for a boost in your online presence.
Customizing the Categories Menu

Within the categories menu settings, you can select your preferred options:
All categories - This option will show every category available, encompassing both primary (main) categories and any subcategories that may exist beneath them.
Only subcategories - Only the subcategories will be displayed in the menu, while the primary categories might be implicitly understood or represented elsewhere.
Hidden - Neither primary categories nor subcategories will be visible to the user in the menu with this option.
This decision depends on the variety and nature of your products. The goal is to prioritize easy navigation and visual clarity.
In Customization you can choose between Categories menu is Hidden in Button or Visible.

EXAMPLE
Below is an expample of "All categories"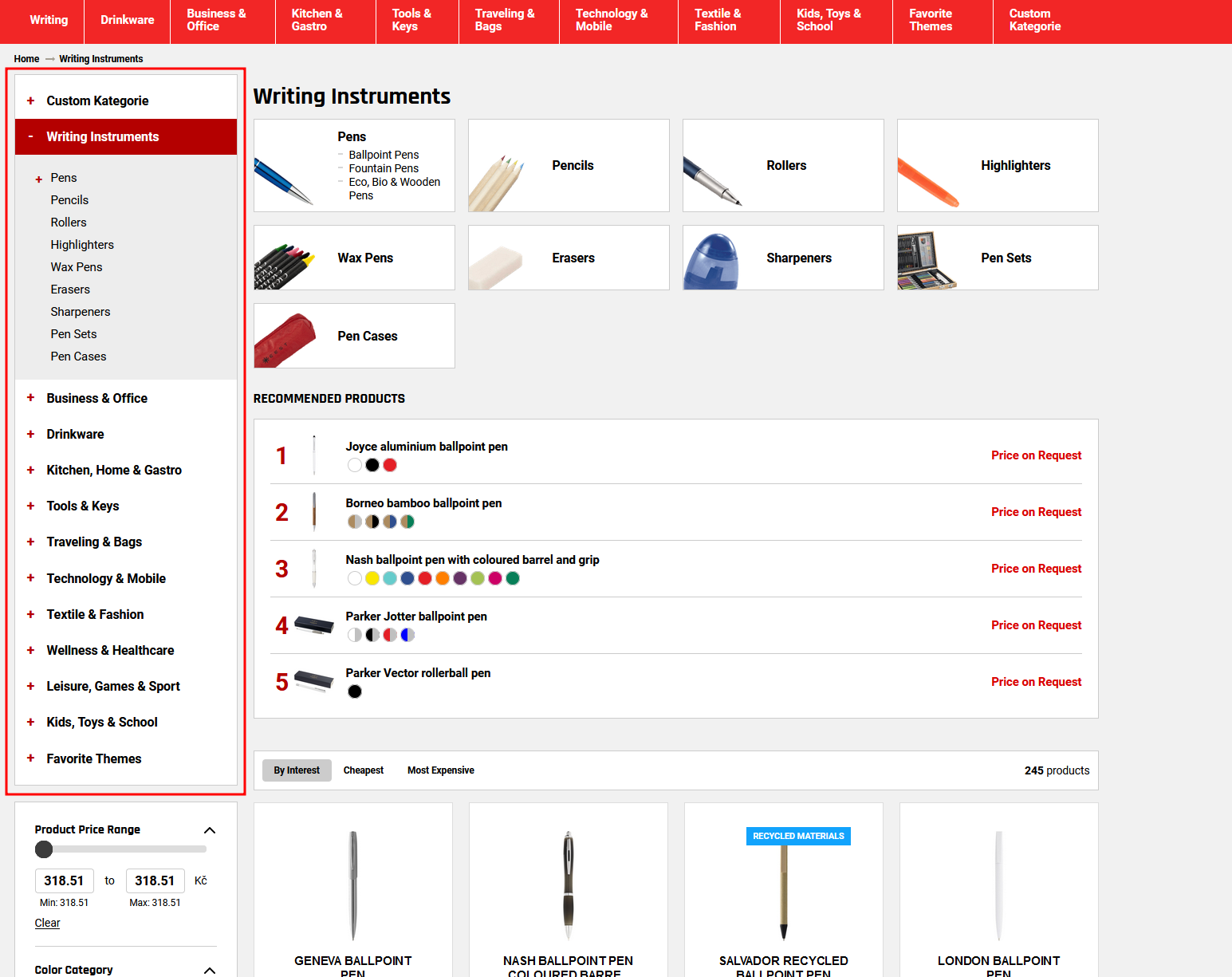 Designing the Subcategory
Choose your preferred visual display when configuring your subcategory. The options include:
Button without image (This is the simplest form of display. As the name suggests, it will be a button, typically with a text label. There won't be any accompanying imagery.)
Button with image (This display consists of a button that includes an image. This can help provide a visual representation of the subcategory.)
Button with image and description (Apart from the image, there's also a brief description accompanying the subcategory name. This provides a more comprehensive understanding of the subcategory at a glance.)
Hidden (The subcategory won't be visible in the main display area.)

TIP
These choices should be guided by your branding, aesthetics, and the browsing preferences of your target audience.

Configuring the Recommended Products
The 'Recommended Products' section is a strategic tool for cross-selling and up-selling. In this section, you have the options to:
Set the number of recommended products to display. You can find it pressing Customization button.
Choose the visual layout of the recommended products
Ensure the recommendations are relevant and personalized to incentivize customers to explore more of your webshop.

The example of In Rows template: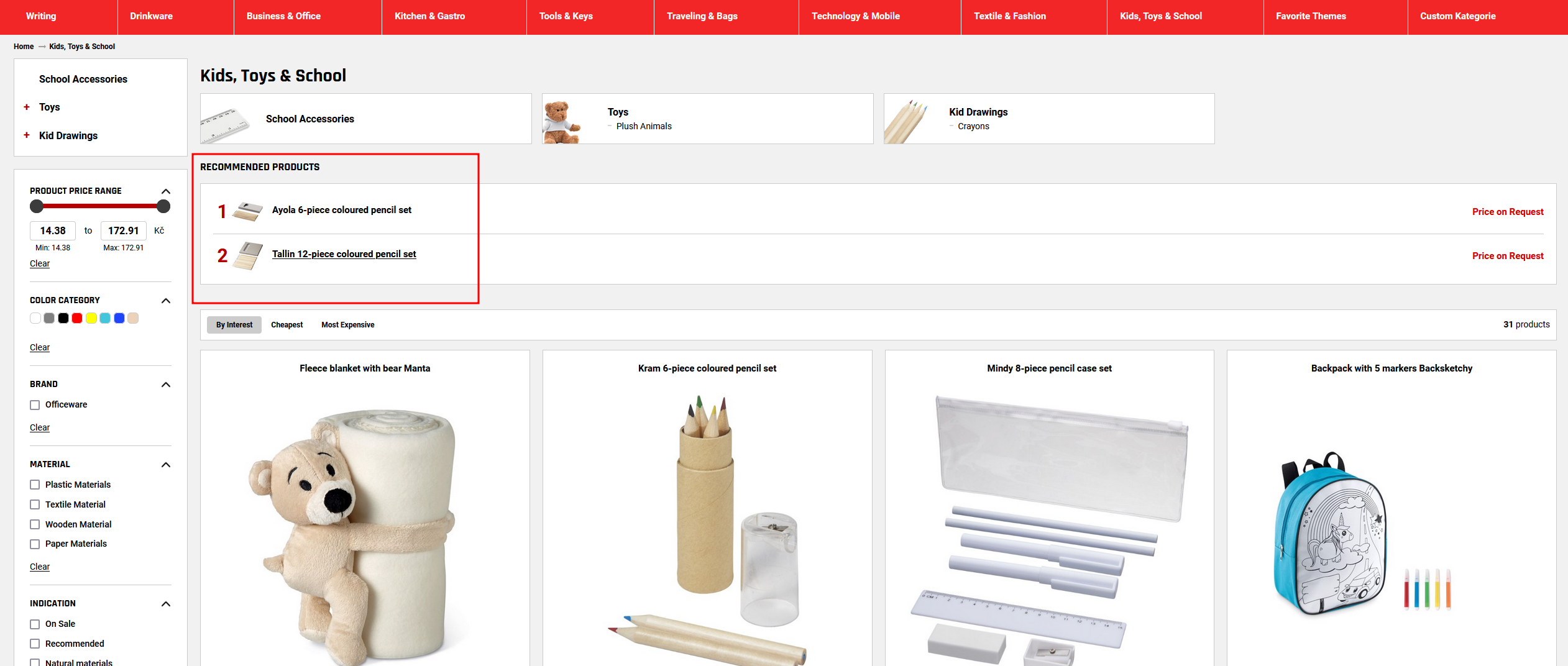 
As you got everything ready, you need to save it
In conclusion, tailoring your product listing layout can significantly enhance the user experience and potentially increase your e-commerce site's success. By strategically choosing the components and features to display you can create an engaging and profitable online shopping environment.

NEED HELP?
Our dedicated support team is just one call away. We're here to guide you through the customization process, ensuring your PromoTron platform is tailored to your exact specifications. The process of customization has never been easier or more accessible. Contact our Support team!