In this article, we will discuss how to set up the footer theme colors and effectively navigate the footer menu.
On This Page
Footer Theme Colors
The footer of a website serves as a crucial section that provides essential information, contact details, additional navigation, and legal disclosures. It may seem like a small aspect of web design, but the footer plays a significant role in enhancing user experience and presenting a professional image.
To begin customizing your Footer, you need to navigate to Settings > Visual settings > Theme Settingson your webshop's portal. After you have to choose Theme Colors. Here, you'll find a host of options to choose from.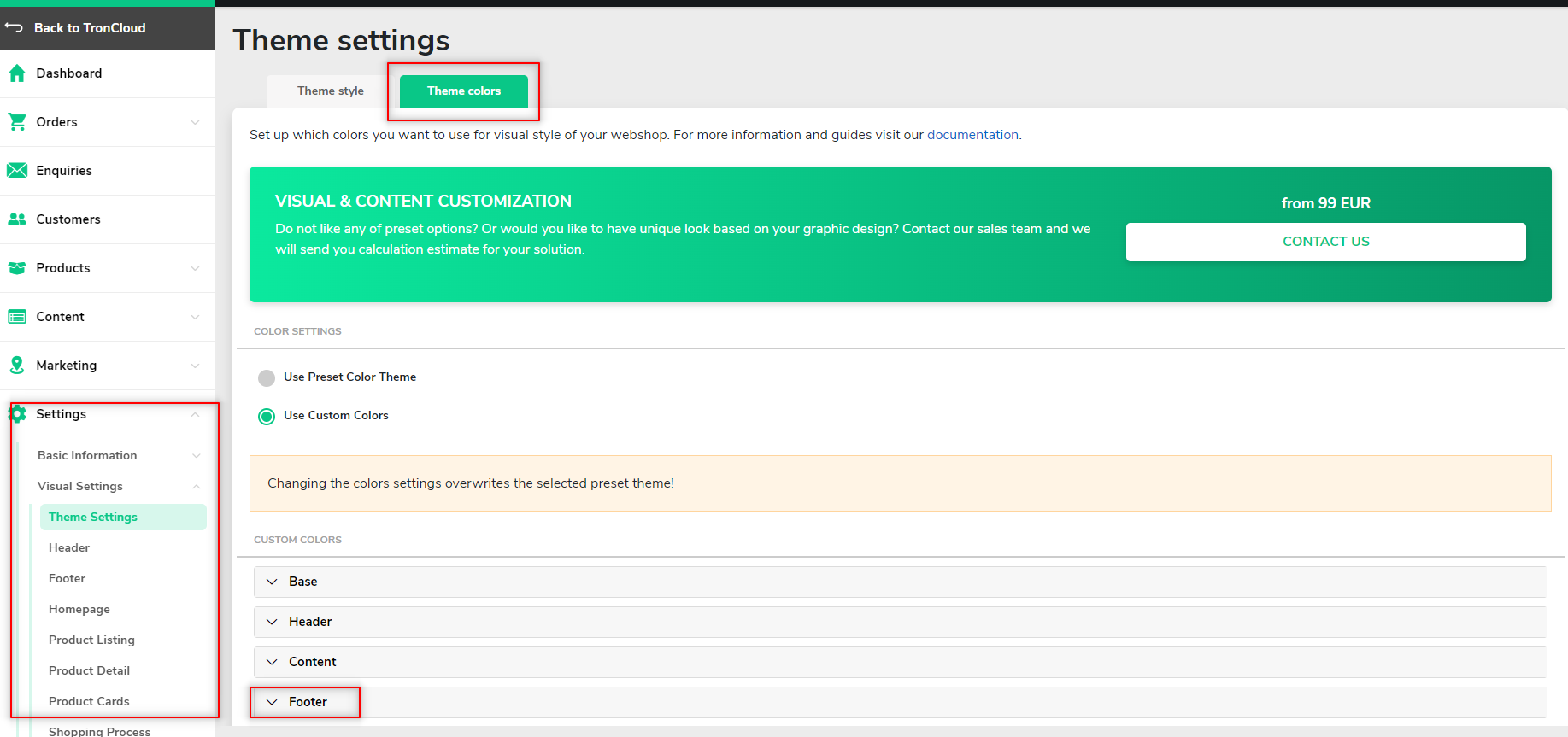 Use Custom Colors to choose any variant you want.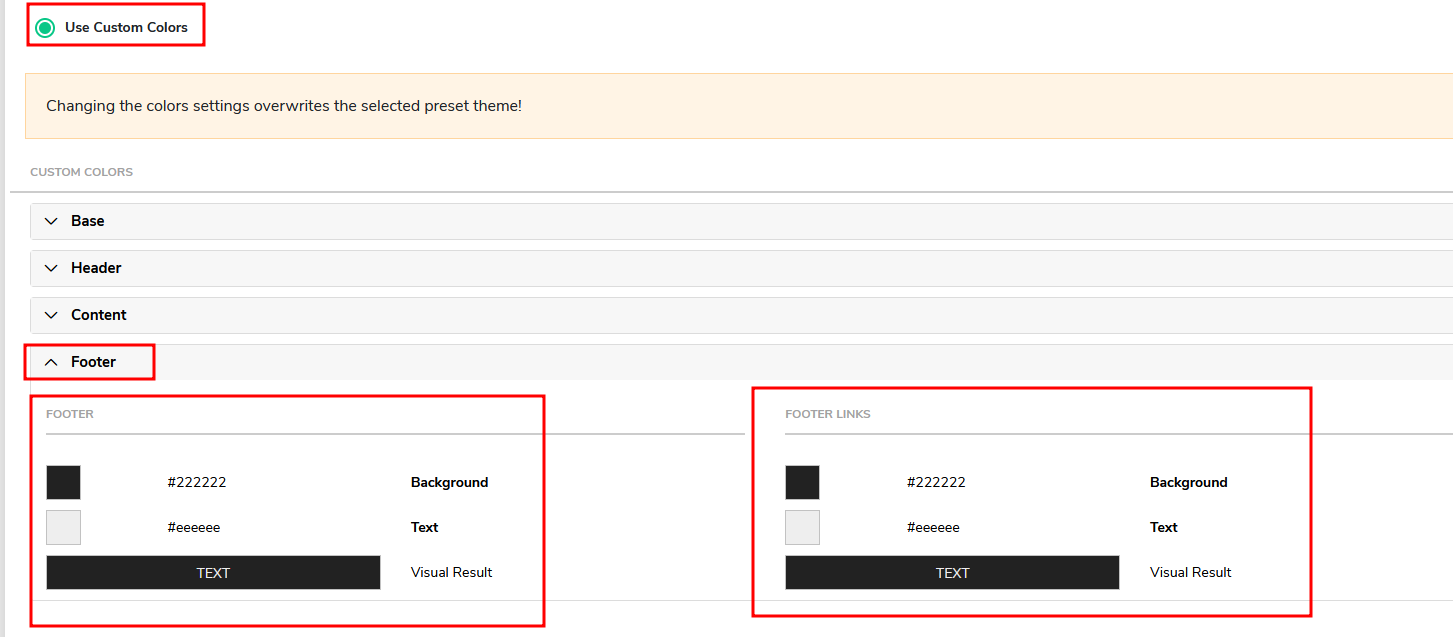 In the menu there are two possobilities to change.
Footer: The background color of your footer.
Footer Links: The color of any links located in your footer.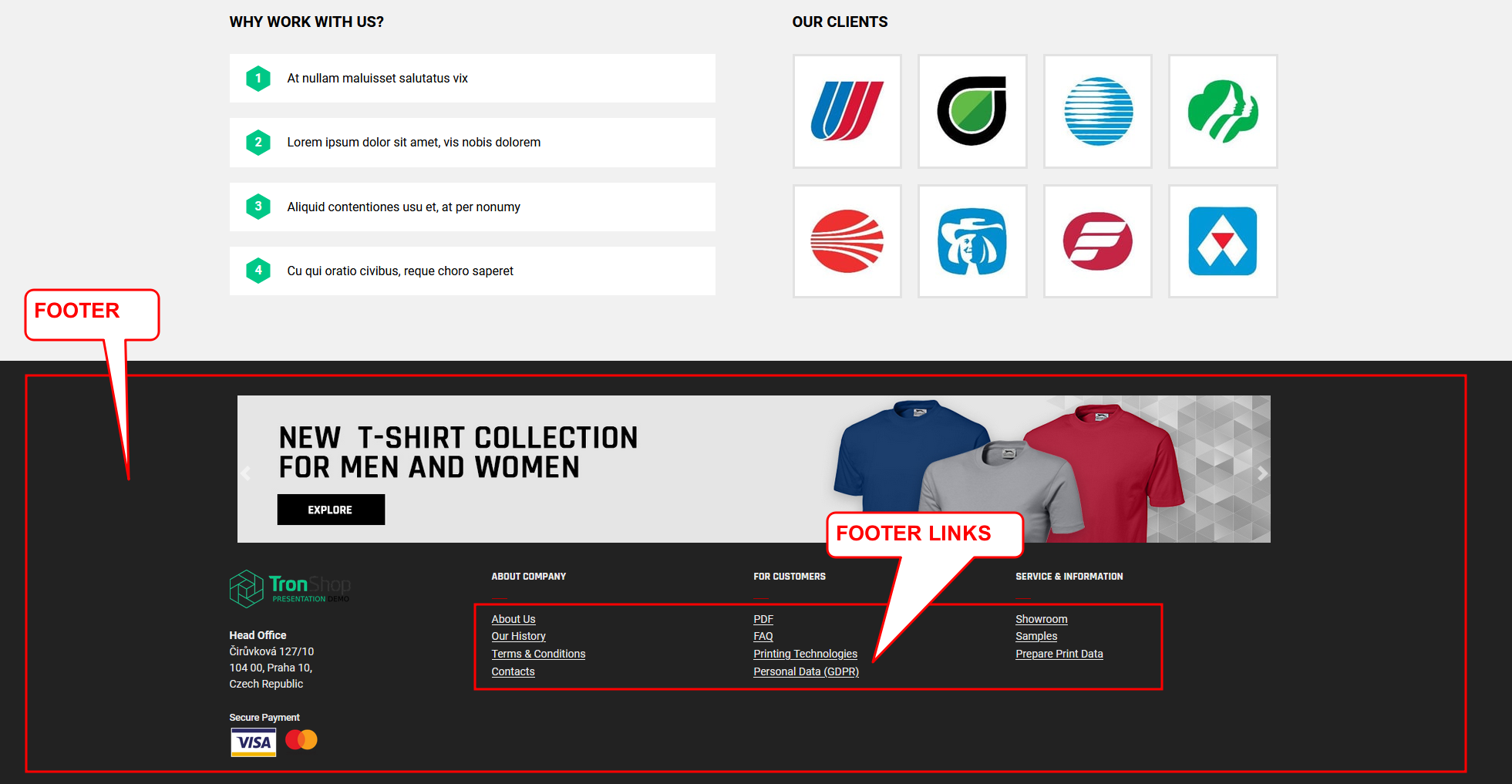 
TIP
If you want to check more about Basic information about themes & your logo & colors, follow this link and dive into our comprehensive guide.
Footer menu
This guide will help you navigate the footer menu, which consists of three segments: About Company (1), For Customers (2), and Service & Information (3).

Go to the Content > Pages. For instance, if you wish to alter some of the hyperlinks in the 'About Company' section (1), locate and select 'About Company' on the left-hand panel. On the right-hand side, select the hyperlink (or page) you'd like to modify.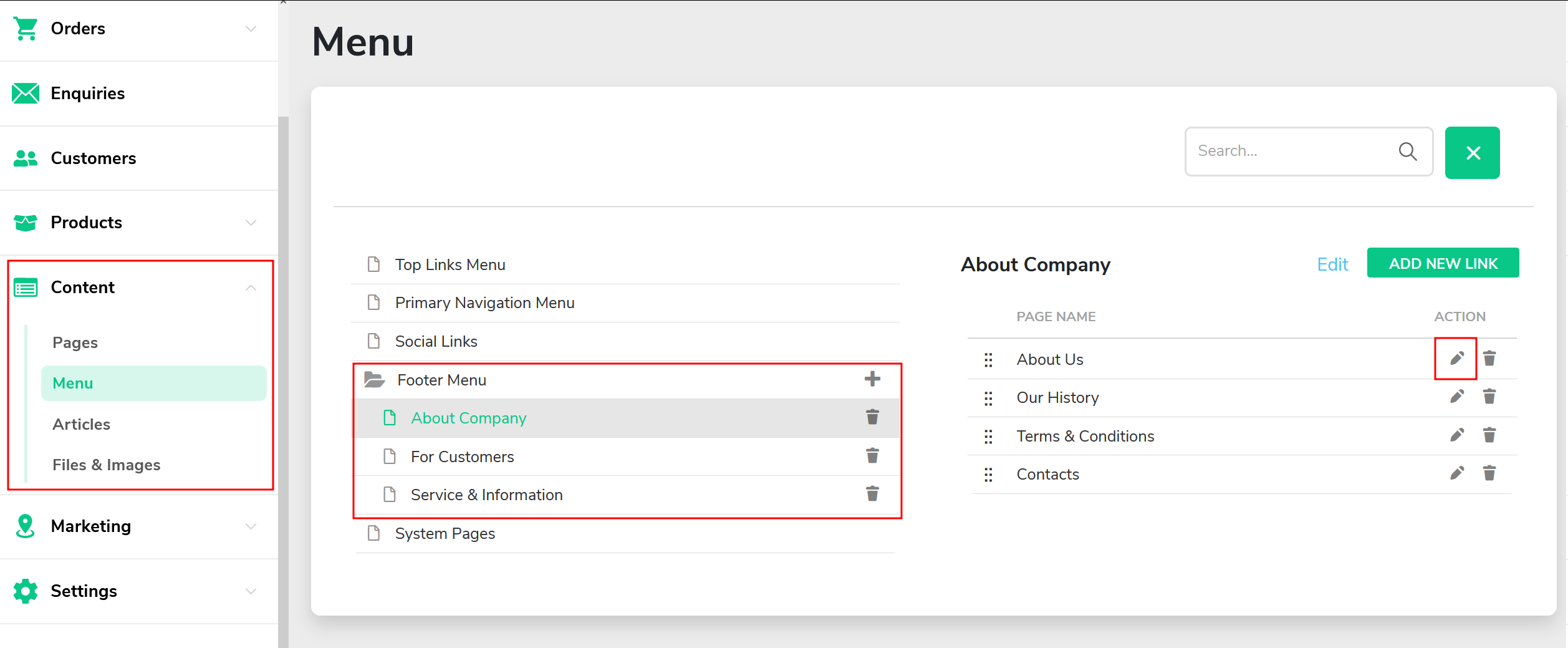 Taking 'About Us' as an example, you can implement any desired changes. After you've completed your edits, remember to hit the 'SAVE' button to secure your modifications.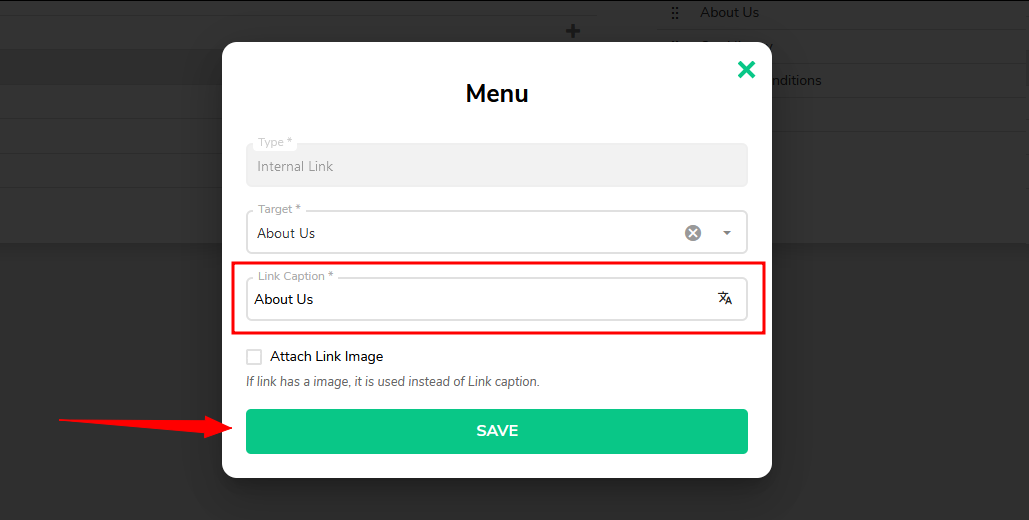 If you wish to include a new hyperlink, simply press the green 'ADD NEW LINK' button in the top right corner. Fill out the necessary details and then hit 'SAVE'. Your new hyperlink will then be established.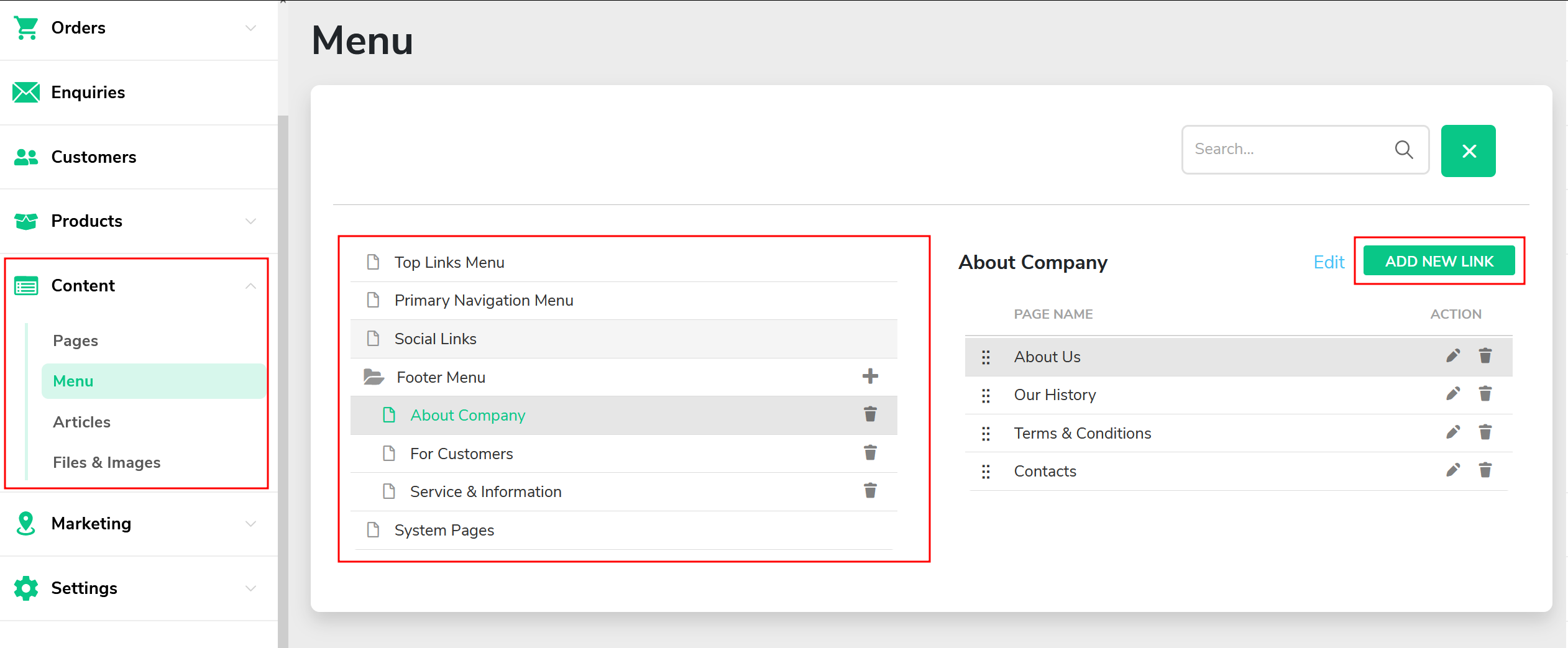 
PLEASE TAKE ATTENTION
If the new hyperlink you're adding is meant to lead to an internal page within your website, you'll need to ensure that the page exists. If it doesn't, you must first create the page before establishing the hyperlink. We have special article for such thinks. You can find it here
Social Networks Links
More information about this topic you will find in Set up Social Nerworks article

Unlock the Magic of Customization
Why settle for ordinary when your brand deserves extraordinary? Let us transform your standard homepage into a masterpiece that captivates every visitor.
If you need further assistance, just Contact our Support team.
Main formats
Here are three main formats to consider when designing your webshop's footer. You can find them in Settings > Visual Settings > Footer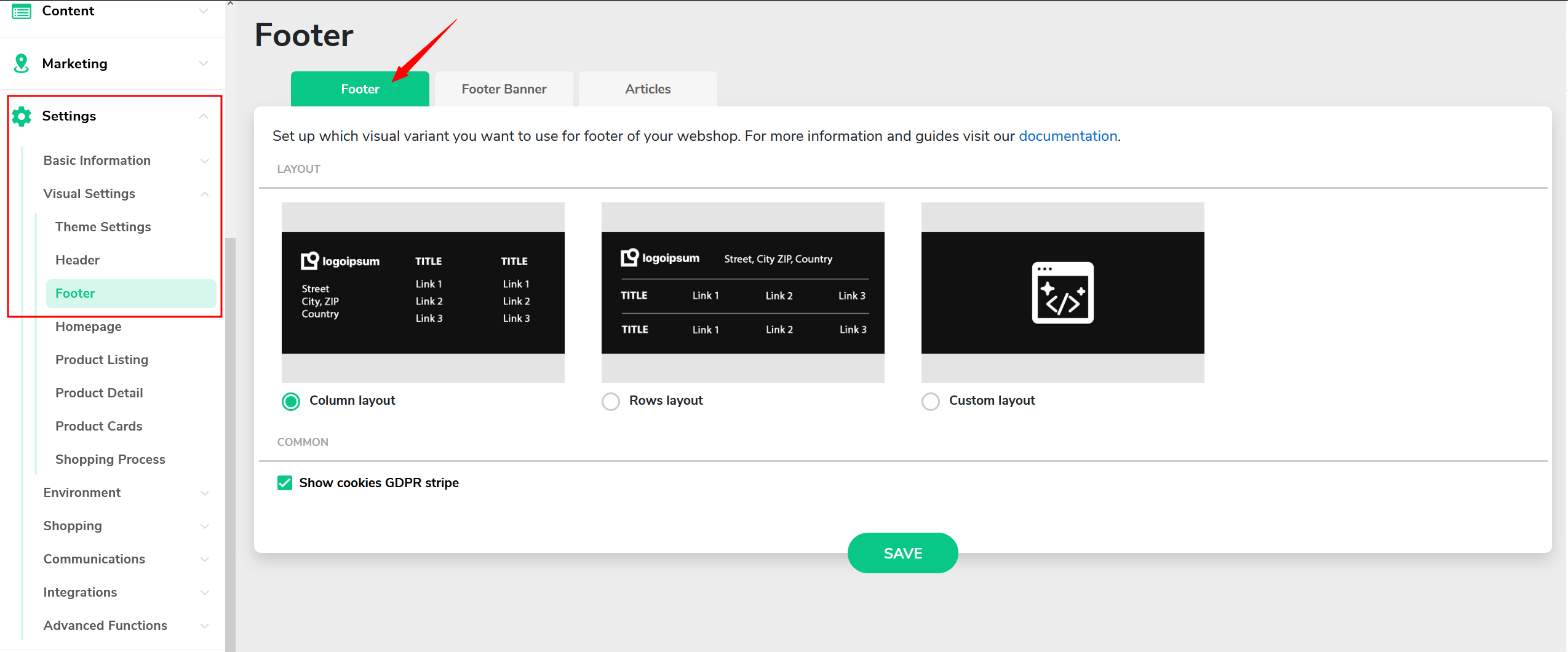 1. Column Footer
Column footers split information into distinct vertical sections, like 'About Us' or 'Contact Us.' They are popular for their neat, organized layout. However, for webshops with lots of information, a column footer may look cluttered.

2. Row Footer
Row footers present information horizontally, giving a sleek, modern look. These are ideal for minimalistic webshops, with the footer containing only essential details like copyright information and social media links. But their downside is limited space for additional information.

3. Custom Footer
Custom footers offer creative freedom. You can include a variety of elements, like subscription forms or custom illustrations, allowing you to design a unique, brand-aligned footer. Just ensure it's not overly complicated, as this can deter users.


NEED HELP?
Boost engagement and conversions with our expert Footer Customization Services, turning the overlooked into the unforgettable. Contact us today to make every pixel count!
Footer banner
A footer banner can be a powerful tool to engage users and drive conversions on your website. Here's a concise guide to creating and implementing one effectively.

There is an example of default banner design.

Image Size and Format
Use an image size of 800x1200px for your footer banner to ensure visibility across different screen sizes. Save your image in JPG format, which provides a good balance between image quality and file size.
File Upload
Upload your banner to your website using the 'upload' option within your content management system.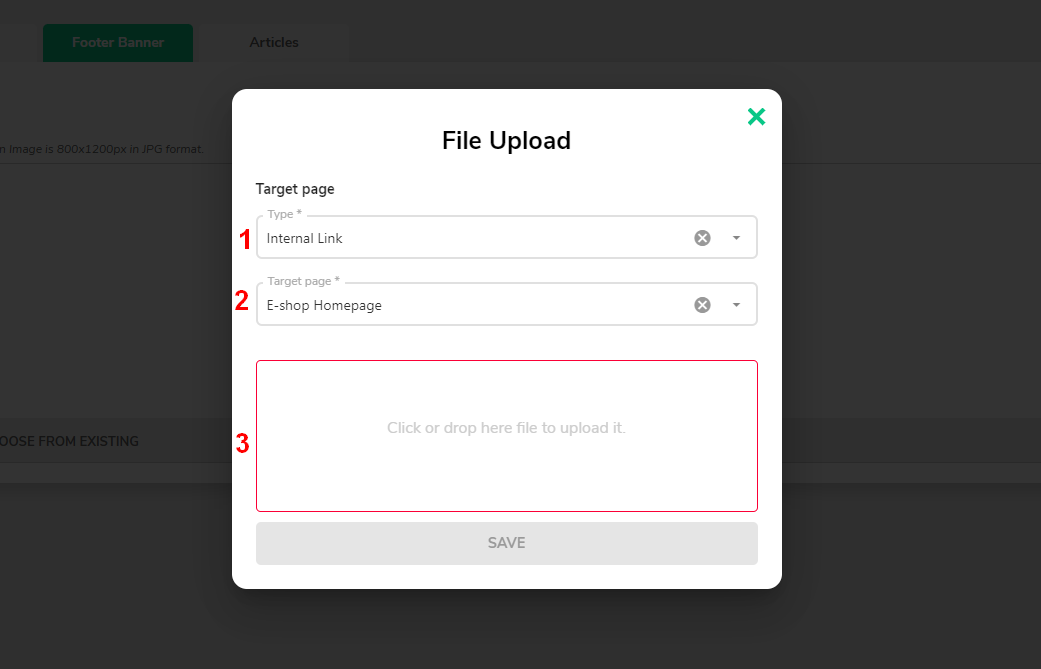 1. Link Type
The footer banner can lead to internal or external pages. Use internal links to guide users to content within your website, and external links to redirect them to outside platforms.
2. Target Page
The target page is where users land when they click your banner. This should directly relate to the banner's content.
3. Drop Menu
In the drop menu, upload an image related to your banner content. This image will appear when users hover over the banner, adding a visual layer to your footer banner and increasing engagement.
Footer logo
Go to Content > Files & Images and then open the folder Layout and then click on Footer and find the footer logo, then click on it and then on the button Edit in the grey box on the right side:

To replace the current logo - click on the "change" button:

Choose the "language" version - upload the logo and proceed with the "save" button: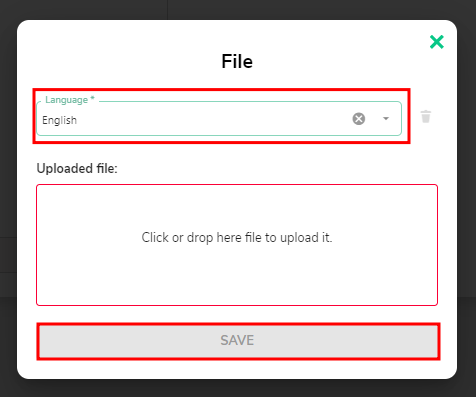 The logo has been changed
Custom footer
Want to enhance your site with a custom footer? We have an article for that!
Need help?
If you want to see your footer with social media links or icons more attractive, you can contact our support team. We will help you with custamizations of your footer.
Below is an example of customized TronShop footer with social media links for our client Quintessence:

In addition to the beautiful footer, they also have customized TronShop header with social media links too:

And one more customized TronShop footer for our client Pens.pt:


Contact us
Let your brand shine with our customization services. Tailor your online shop to perfection, attract customers and boost Sales. For more information, simply Contact Our Support Team.