This article breaks down the purpose and intricacies of every e-mail template we use at TronShop.
On This Page

PLEASE TAKE ATTENTION
Please do not forget to enter the desired e-mail addresses into the fields Reply-To and BCC of every single template, otherwise neither you nor the customers will receive the e-mails!
Here is a manual on how to do it: How to set the e-mail notifications
Before Start
Locate the section that Setting > Communications > E-mail templates you will see a list of e-mails and templates.
The purpose of every e-mail or template is explained below.

Order and Demand forms
Demand Confirmation - Created by Customer at Webshop/Demand with hidden prices Confirmation - Created by Customer at Webshop
These e-mail templates are sent when your customer submits a demand (in case you are using TronShop in the Quotation & Demand mode)

EXAMPLE
Order State Changed
To send order state change mail, you need to navigate to Orders > Orders List and choose needable order.
An email will be sent if you click on the button SEND ORDER STATE CHANGED EMAIL in the detail of any order: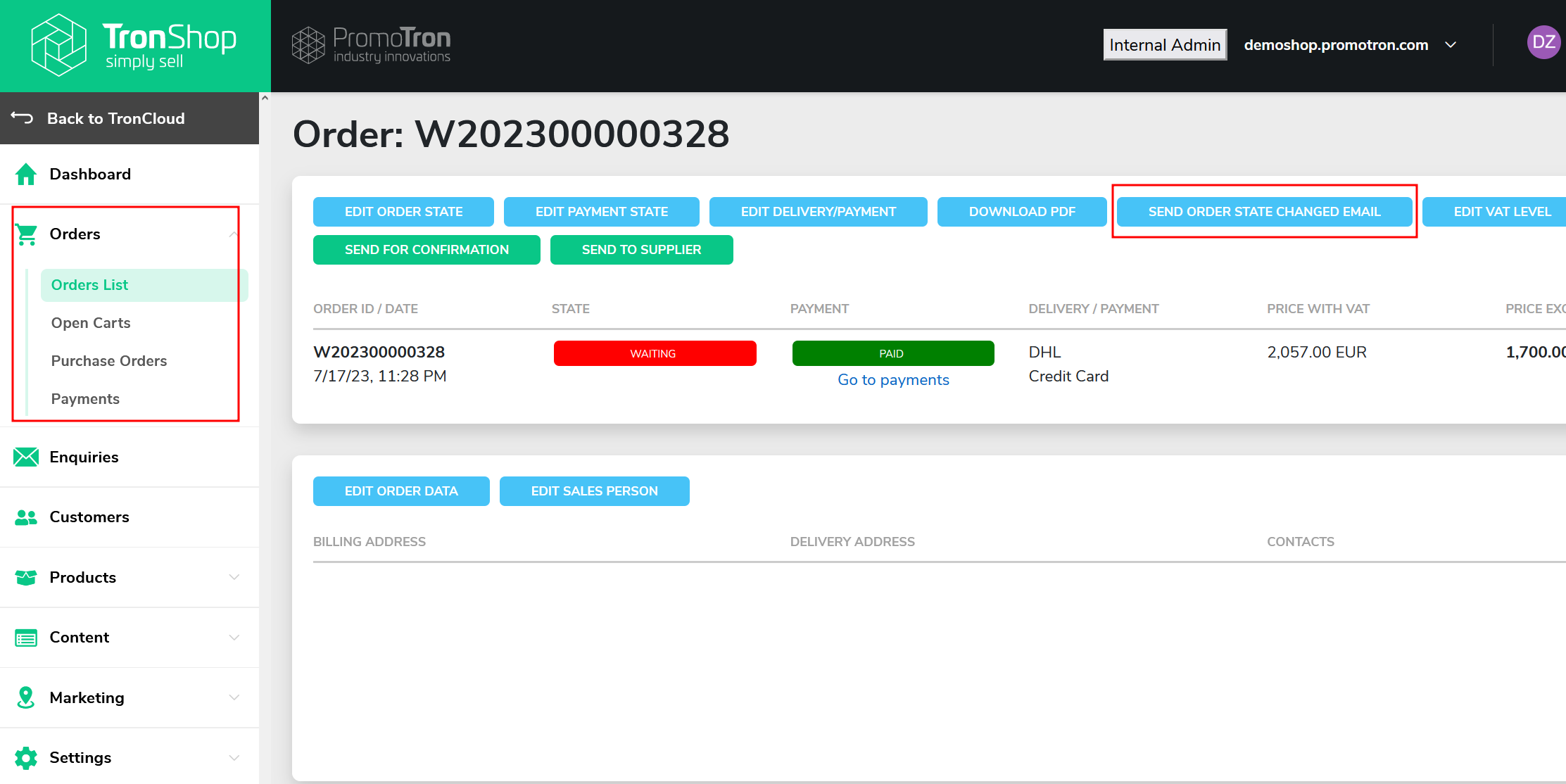 
EXAMPLE
This e-mail is sent to the customer:

Order Export to PDF
PDF file with the order summary including purchase prices - intended for your internal use.
It can be downloaded in the order detail.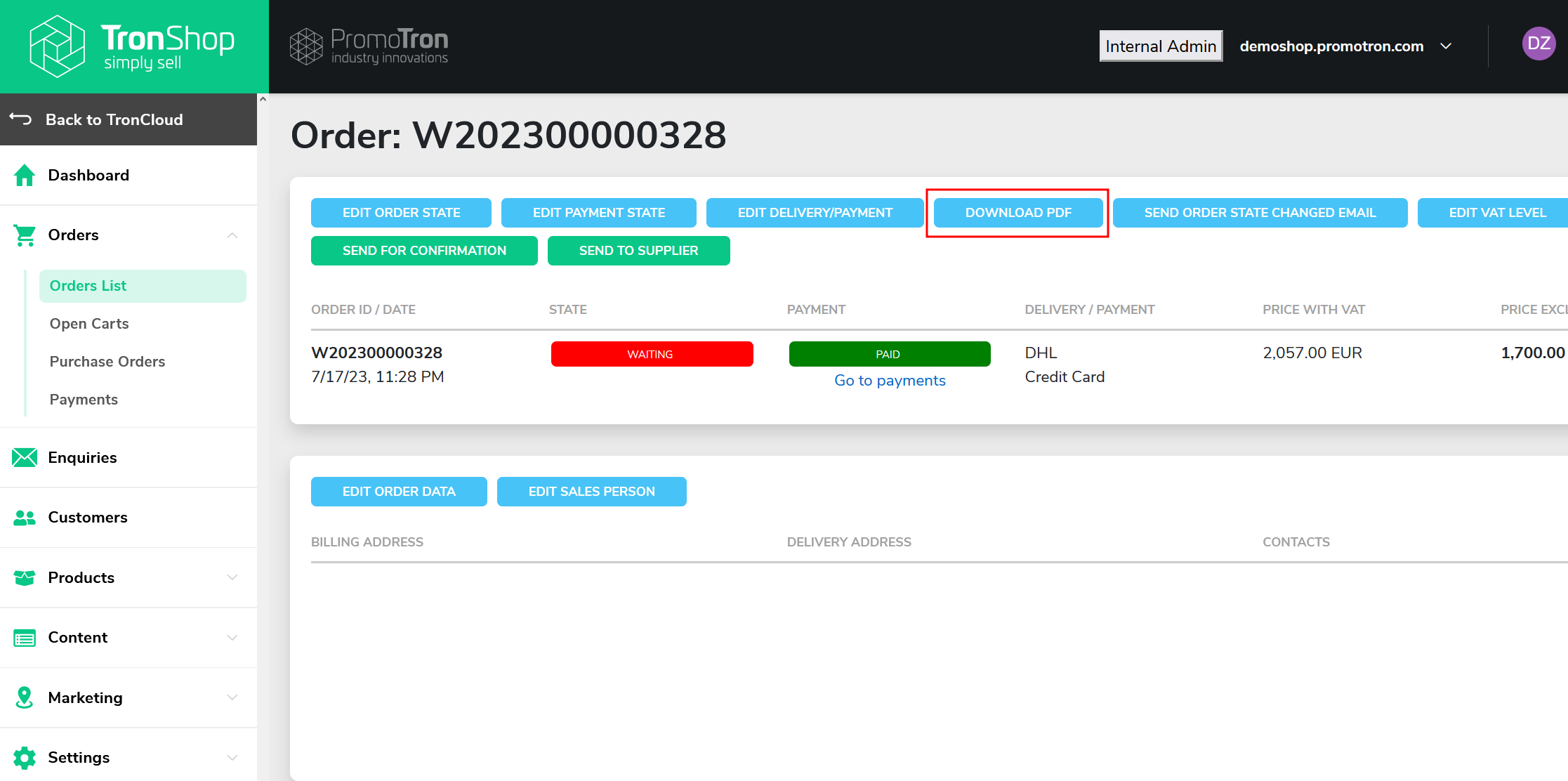 in the next step click on FOR US:


EXAMPLE
Order Export to PDF without purchase prices
This pdf can be downloaded in the order detail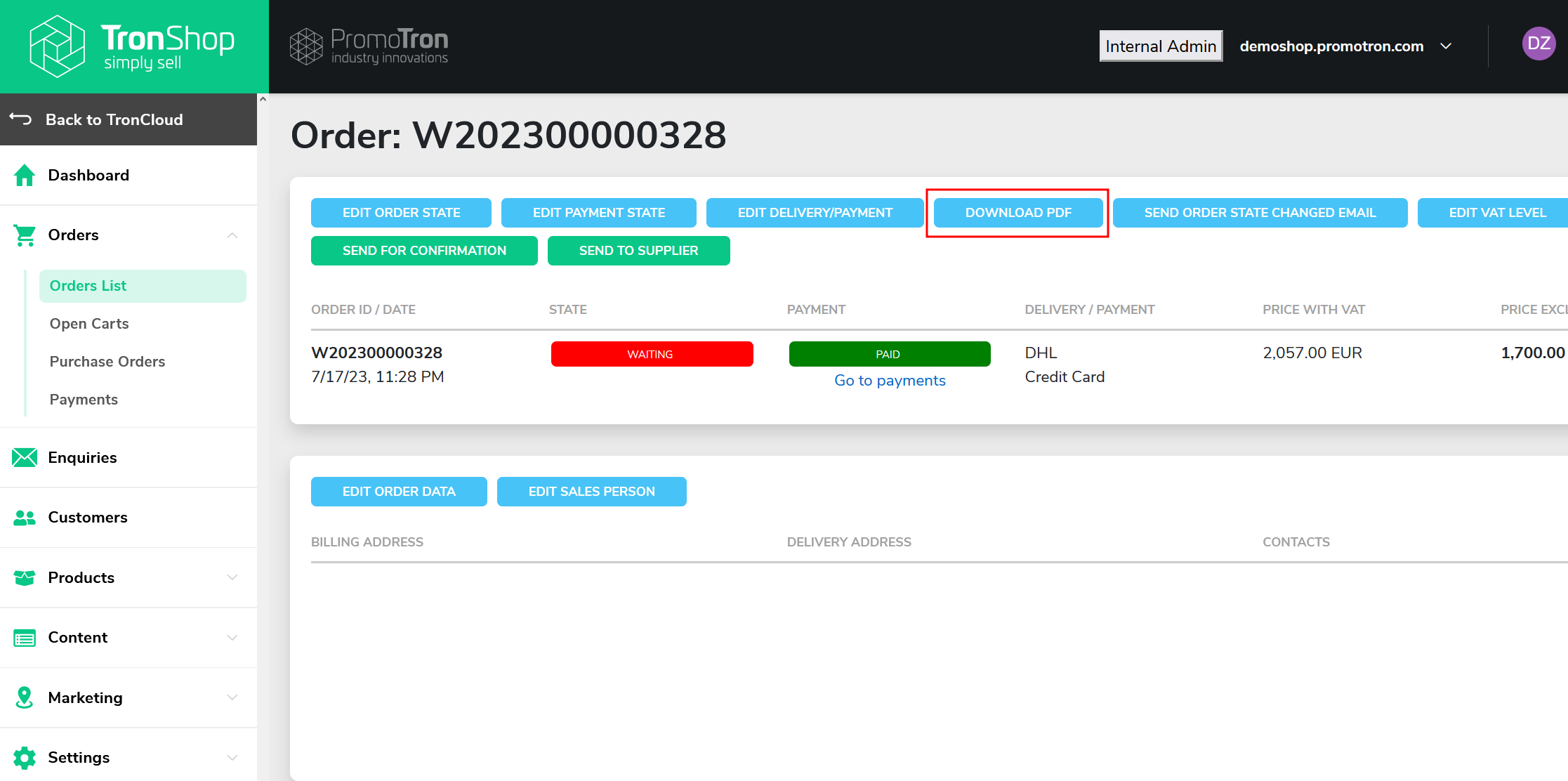 in the next step click on FOR THE CUSTOMER:


EXAMPLE
This PDF file is for your customers
Order Sample Inquiry - Created by Customer at Webshop
- this e-mail is sent to you when a customer requests a sample of a product:
Order or Demand - Ready for approval
This email is sent to the customer, for example, if the shop owner has made some changes to the order and wants to have them approved by the customer, this email will be sent using the button below (see screenshot Nr. 1 below). The status of the order will then change to "FOR APPROVAL" (see screenshot Nr. 2)
Screenshot Nr. 1:

Screenshot Nr. 2: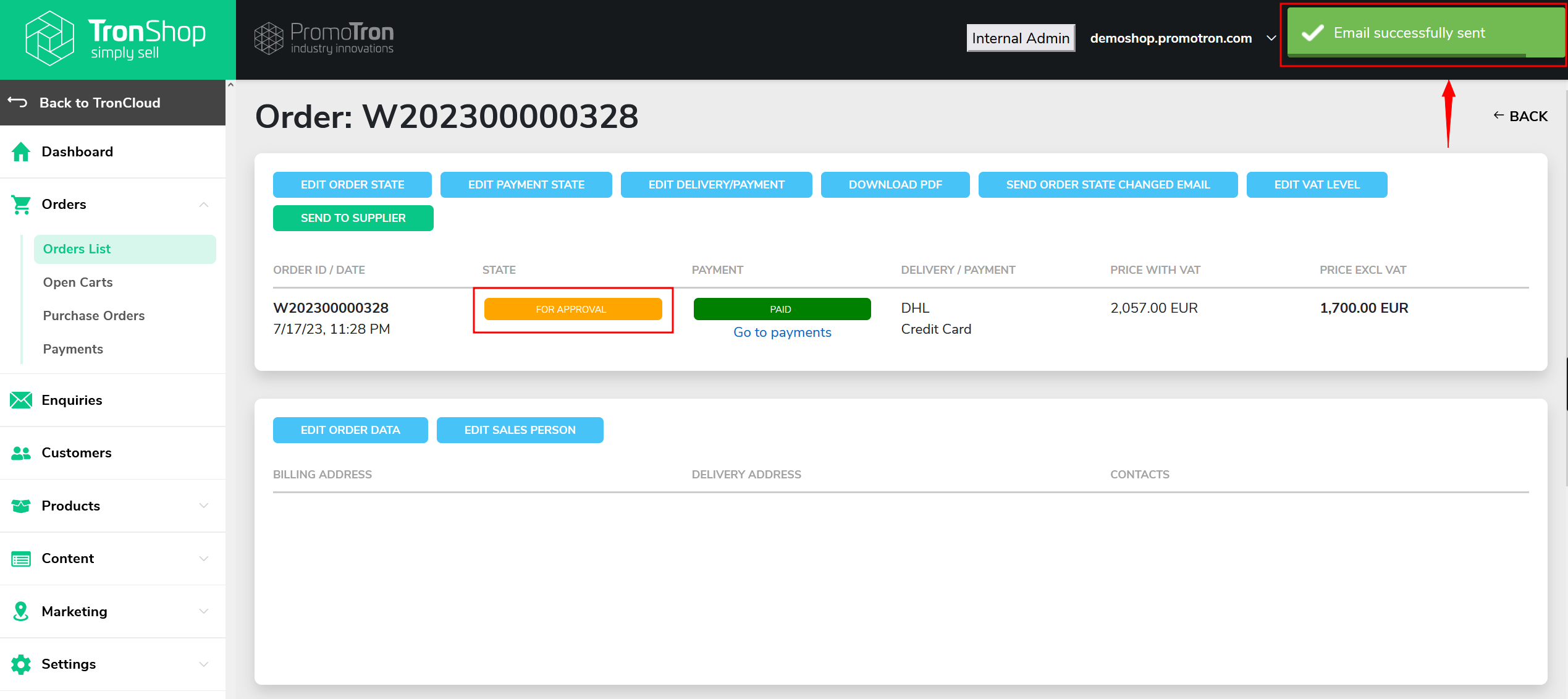 
EXAMPLE
Order or Demand - Approved
In the customer section of the shop, the customer will see the option to:
remove the items he doesn't want to order
export the order to PDF (Download PDF)
approve the order. When the customer clicks on the button APPROVE ORDER, the e-mail "Order or Demand - Approved" is sent

EXAMPLE
Order Confirmation - Created by Customer at Webshop
when a customer submits an order in your webshop, this e-mail is sent both to you and the customer:
Other Forms
Registration Confirmation - Created by Customer at Webshop
when a new customer registers in your webshop, this e-mail is sent both to you and the customer:
Inquiry Confirmation - Created by Customer at Webshop
when a customer submits an inquiry form in your webshop, this e-mail is sent both to you and the customer:
Password Reset
when your customer clicks to reset his password, he receives this e-mail:
Contact email
A customer submits the contact form on your webshop: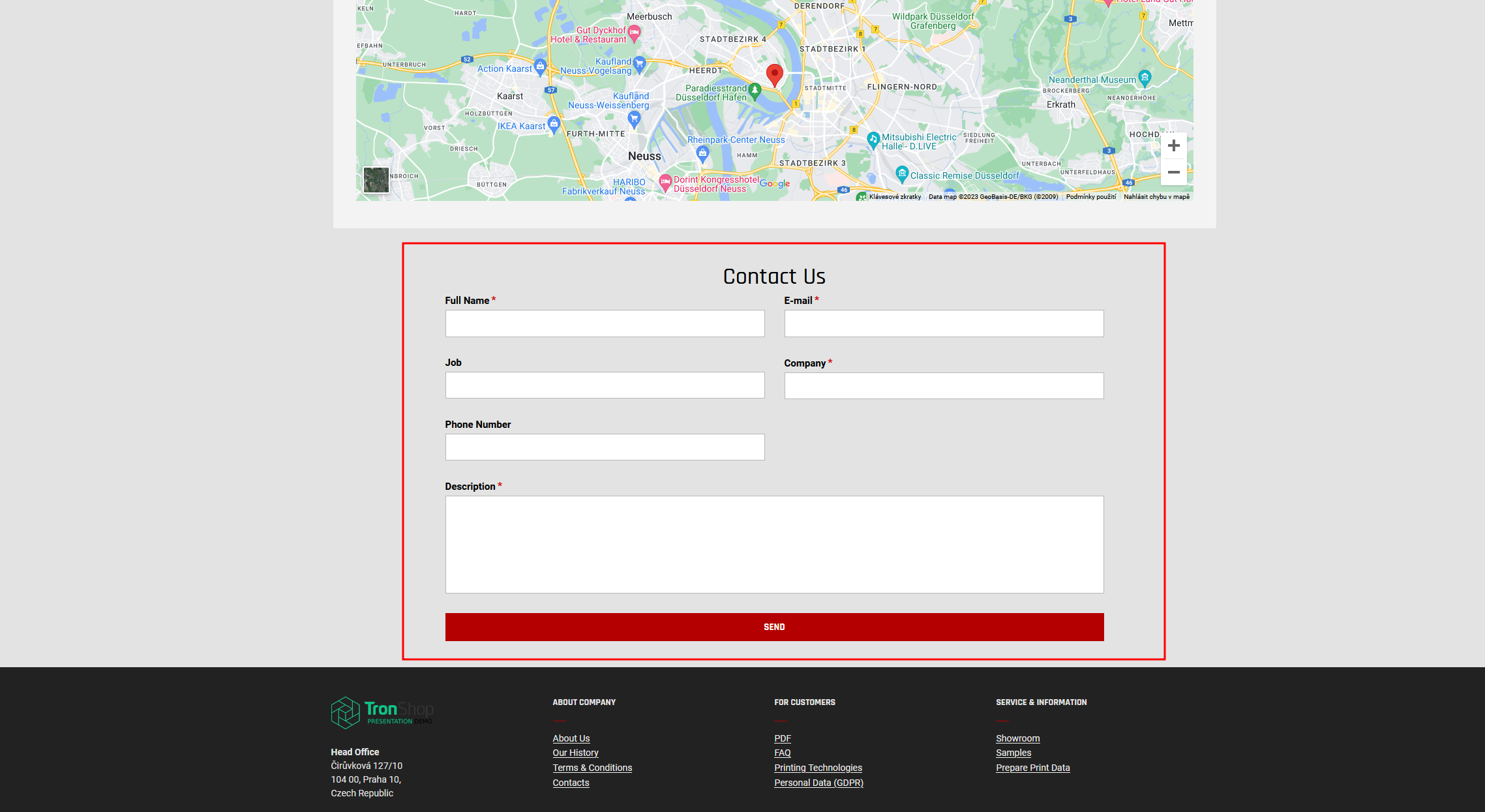 
EXAMPLE
this e-mail is sent to you, when after customer submits it