Whether you're purchasing a product, subscribing to a service, or making any other form of online payment, having a reliable and secure payment system is crucial.
Here's a brief overview of the payment systems we support, how they generally work, and where you can find detailed instructions for each.
All payment systems are in Settings > Integrations > Online Payments.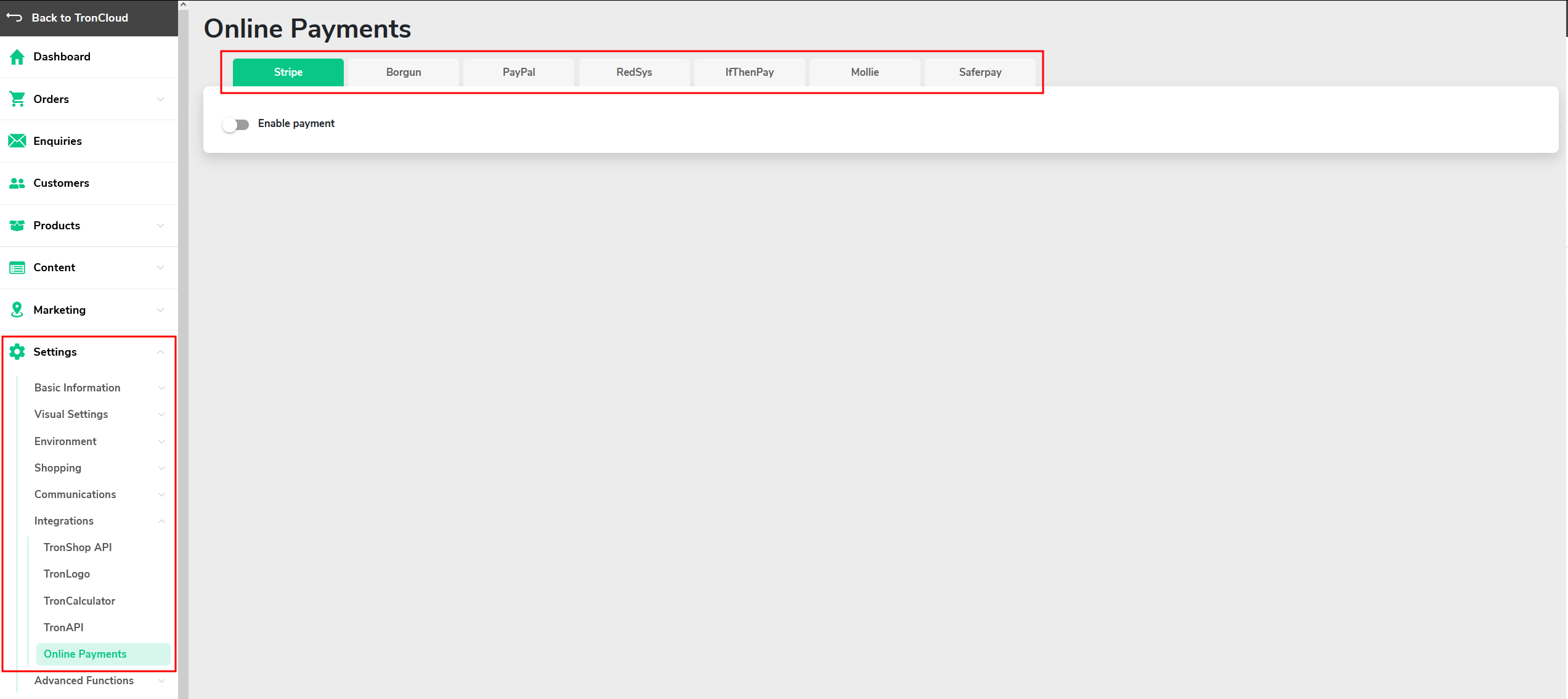 On This Page
Stripe
How it works: Stripe is a technology company that builds economic infrastructure for the internet. Users can accept payments, send payouts, and manage their businesses online. It's known for its flexibility and is used by many e-commerce websites and apps.
Instructions: Stripe User Guide
PayPal
How it works: PayPal is one of the most widely recognized and used payment systems worldwide. It allows users to make payments and money transfers through the internet. With a user-friendly interface, it's a favorite among many online shoppers and businesses.
Instructions: PayPal User Guide
Redsys
How it works: Redsys offers a secure payment system widely used in Spain. It provides various solutions for electronic commerce and is known for its reliability.
Instructions: Redsys User Guide
IfThenPay
How it works: IfThenPay is a fintech company that specializes in easy and accessible payment solutions. It's particularly known for its Multibanco references, which are widely used in Portugal.
Instructions: IfThenPay User Guide
Mollie
How it works: Mollie makes online payment simple for merchants. With just a few clicks, businesses can integrate various payment methods through Mollie's API.
Instructions: Mollie User Guide
Borgun
How it works: Borgun is a versatile payment system that offers a range of online transaction solutions. It's designed to cater to the needs of modern businesses and their customers.
Instructions: Borgun User Guide
Didn't Find Your Payment Service?
If you use a payment service that's not listed above, please don't hesitate to write to us. We're always looking to expand our offerings and ensure that we cater to the needs of all our clients. Your feedback is invaluable in helping us serve you better.
We hope this guide provides clarity on the payment systems we support. Remember, each service has its own set of instructions linked above. If you have any questions or need further assistance, we're here to help!