TronLogo offers an intuitive platform for personalized product design, with tools ranging from logo uploads to detailed printing specifications.
On This Page
Upload/Change Logo
You'll need to upload your logo, and there are several ways to achieve this.
Start by selecting the "Upload/Change Logo" option.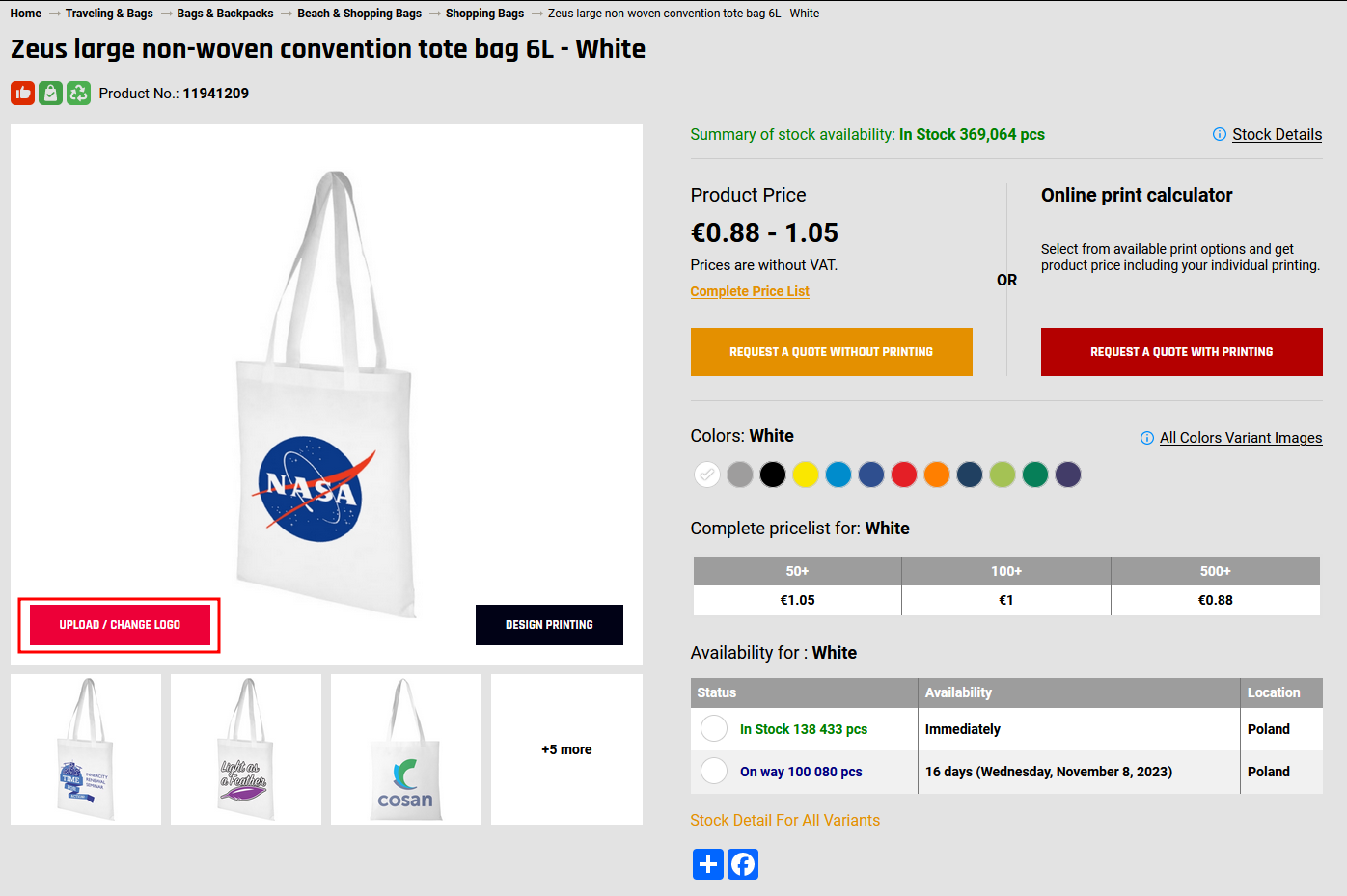 Upon clicking, a new window will appear. Here, you have the choice of selecting from pre-existing logos or opting to upload a fresh one by clicking on the "Upload new logo" button.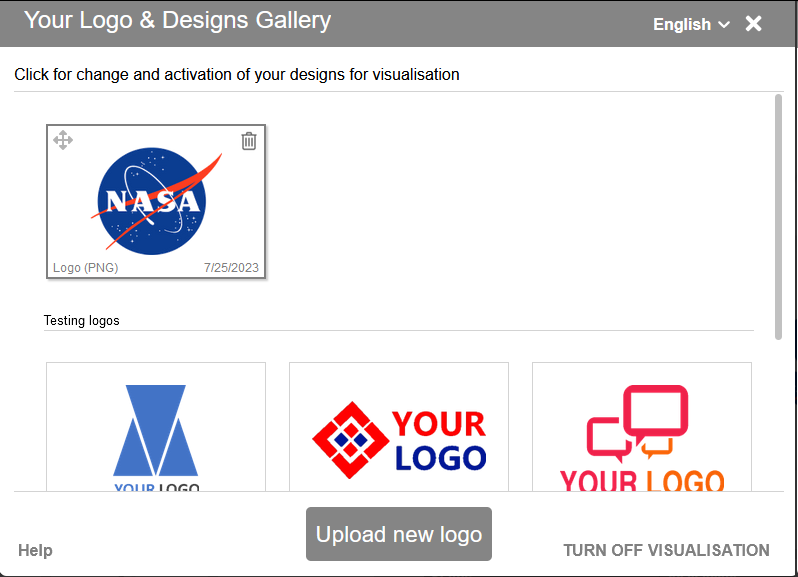 
TIP
Should you require additional guidance on how TronLogo operates, please refer to our comprehensive manual.
Design Printing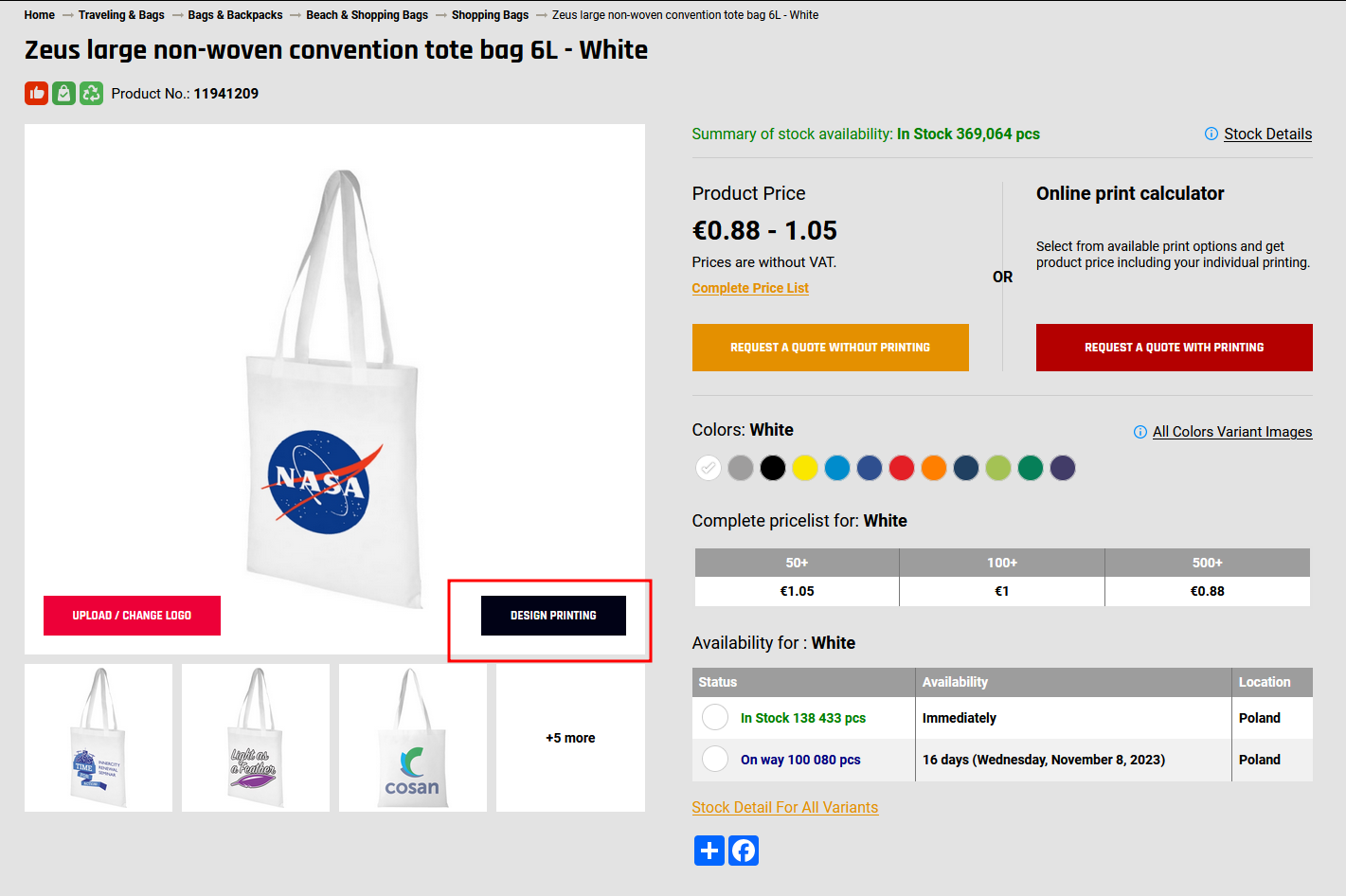 If you've already uploaded a logo, you can proceed to customize it. Simply select the "Design Printing" button.
Upon doing so, a new window showcasing various design settings will appear.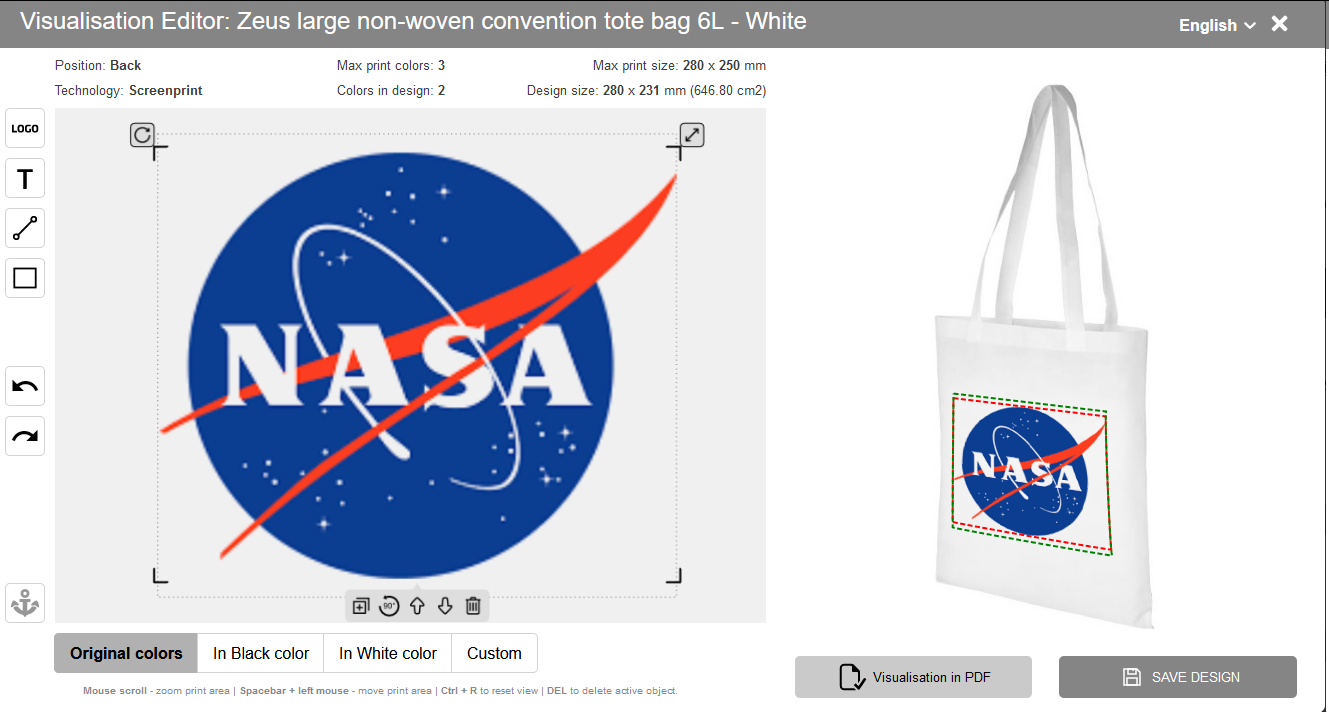 The Canvas and Its Tools:
At first glance, the editor provides a clear layout. The left sidebar offers options that enhance design flexibility:
Add Another Logo: While the NASA insignia serves as a mere example, the real power lies in your ability to upload any logo of your choosing. Whether it's a company logo, a personal brand, or any graphic, the possibilities are vast.

Add Text: Want to add a slogan, a name, or any other text? This tool lets you insert words that resonate with your design's essence.

Add Line & Rectangle: Elevate your design with geometric elements. Whether you're framing your logo or creating patterns, these options bring a touch of sophistication.

For those who might have second thoughts or wish to revisit a previous design iteration, the invaluable Undo and Redo buttons come to the rescue.
Overhead Controls:
Navigating to the top, users are met with essential technical controls:
Position: where your design sits on the product.

Printing Technology: the method best suited for your design's intricacies.

Max. Print Colors: This feature specifies the number of colors you can incorporate, ensuring clarity in the final print.

Colors in Design: Get a quick count of how many hues your current design employs.

Max. Print Size & Design Size: These tools guide you in scaling your design appropriately, ensuring it fits perfectly on the product.
Dynamic Design Manipulation:
The editor is not just about adding elements; it's about perfecting their placement. Users can:
Move: Drag your logo to the desired position.

Rotate: Give a twist to your elements for that unique look.

Change Layer: Decide the sequence of your design elements, determining what overlays what.

Delete: Remove any element that doesn't fit into your vision.
Color Customization:
Beneath the main design area, the color selection tools beckon:
Original Colors: Retain the inherent colors of your uploaded logo or design.

Black, White, & Custom Color: Whether you desire a monochromatic look or wish to explore a unique color palette, these options provide the canvas to experiment.
Once satisfied, the Visualisation in PDF feature is the cherry on top. With a simple click, the system generates a polished visualization of your design in a PDF format. Whether you're sending it for approval, sharing it with colleagues, or simply storing it for future reference, the PDF can be conveniently emailed, ensuring your design remains accessible and ready for the next step.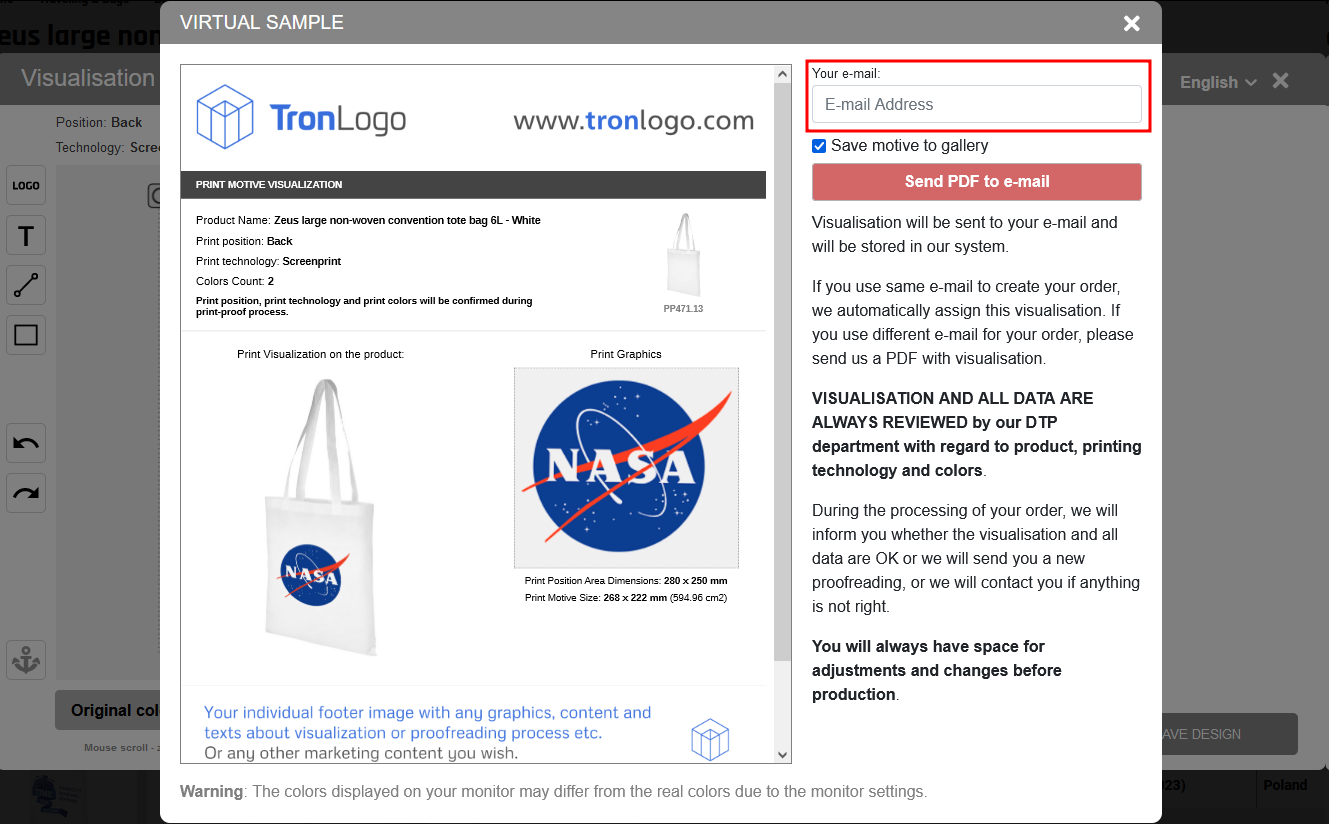 Need help?