Designed with user-friendly features and intuitive categorization, this platform ensures seamless interaction between customers and businesses. Dive in to understand the functionalities and make the most of your enquiries.
On This Page
List of Enquiries
You can find all inquiries in the menu Enquiries. There you will see list of Enquiries were made.
You can filter there by date and statuses.
Multiple statuses are valid. They are grouped into several categories:
New:
Checking:

Entry Check
Feasibility Check
Print Data Check

Preparing:

Preparing Print-Proof
Preparing Quotation

Waiting:

Waiting For Information
Waiting For Print Data
Waiting For Calculation

Done:

Quotation Sent
Answered
Ordered
Rejected

Cancelled.
Additionally, the platform provides visibility into which company created the order and the date of its creation.
To view detailed information or adjust the status of the enquiry, simply click on its code or the pencil icon.
Enquiry

Inside the enquiry you will find:
Change Status Button: This button likely allows the user to update or modify the status of the enquiry.

Contact Info: This section provides details about the individual or company that made the enquiry. Information includes:

ID: A unique identifier for the enquiry (e.g., W202207134943).
Status: Current status of the enquiry (e.g., "NEW WAITING").
Company: Name of the company (e.g., "Test").
Name: Name of the individual or contact person.
E-mail: Email address of the contact.
Phone: Phone number of the contact.
Language: Preferred language of communication (e.g., "English").
Source: Where the enquiry came from or how it was initiated (e.g., "Client at E-shop").

Message: A communication from the client or user.

Reply: This button would allow the user to respond to the message or enquiry.
Upon selecting "Change Status", a new window will pop up.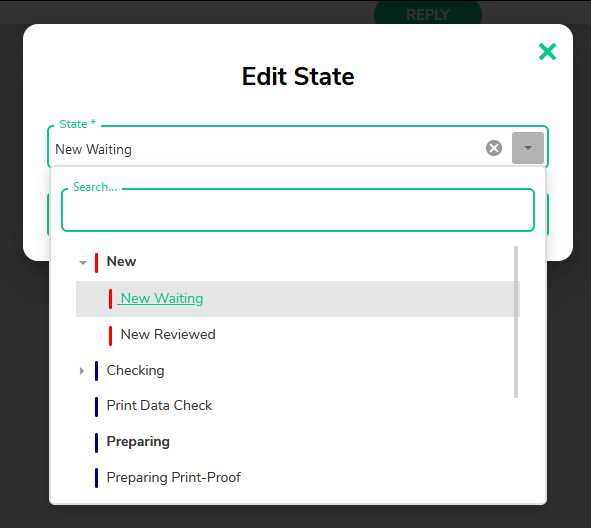 From there, select an option from the list, the available statuses are categorized as mentioned above. And then click "Save".

NEED HELP?
Our dedicated support team is just one email away. We're here to guide you through the customization process, ensuring your PromoTron platform is tailored to your exact specifications. The process of customization has never been easier or more accessible. Contact our Support team!