Whether you're questioning its importance, pondering why it should matter to you, or seeking practical guidance on setting it up for specific categories, this comprehensive guide will illuminate every facet. Let's journey together through the digital realm, enhancing content visibility and user experience.
On This Page
What is Open Graph?
The Open Graph Protocol, commonly referred to as Open Graph, can be likened to a digital identification system for web content. This system was introduced by Facebook as a means to enable websites to provide concise summaries of their content. Consequently, when a link is disseminated via social media platforms, the Open Graph ensures the presentation of an accurate and polished preview, be it the headline of an article or a brief highlight from a video.
Why should you care?
Consider the scenario of publishing a narrative and intending to circulate it digitally. Upon encountering the shared link, prospective readers receive a preliminary glimpse of the content. The aim is to pique their interest and compel them to explore further. The Open Graph Protocol plays a pivotal role in ensuring this preliminary content depiction is both appealing and contextually accurate, particularly in the domain of social media sharing.
Why The Open Graph Is Important for Your Website
The Open Graph Protocol (OGP) stands as a pivotal tool for enhancing the online presentation of your website's content. Instituted for the primary purpose of refining shared web content, the OGP is integral for ensuring content uniformity, increased visibility, and a superior user interaction experience.
Key benefits of integrating the Open Graph Protocol include:
Traffic Augmentation: OGP drives increased traffic to your digital platform.
Enhanced Search Engine Visibility: The protocol facilitates improved page rankings on search engines.
Conversion Rate Improvement: With attractive and precise content previews, potential visitors are more likely to engage.
Brand Reliability: Properly presented content boosts brand credibility and trustworthiness.
Backlink Acquisition: High-quality content, presented correctly, often attracts backlinks from reputable sources.
Elevated User Engagement: The OGP promotes heightened interaction with your content.
Social Media Amplification: The protocol is instrumental in procuring additional social media shares.
Social Media Audience Growth: Optimized shared content can expand your follower base on platforms like Facebook and Twitter.
Enhanced Click-Through Rate (CTR): By presenting clear and accurate content snapshots, users are more inclined to click on your links.
Facilitated Content Interpretation: The OGP enables social media platforms to decipher and present your content correctly.
The application of OG tags is crucial in guiding how your website's content is displayed on social media platforms. A scenario wherein a shared link on a platform like Facebook lacks the corresponding image or displays an incorrect title not only detracts from user experience but can also negatively impact brand perception.
Moreover, advanced applications of the Open Graph Protocol allow for specific group and location targeting, providing the ability to customize the information displayed to users based on various parameters, such as geographic location.
Set Up Open Graph for category
Navigate to the Products > Categories.
Once you've chosen the category you wish to modify, click on the "..." icon. A new window will appear where you can access the Edit options.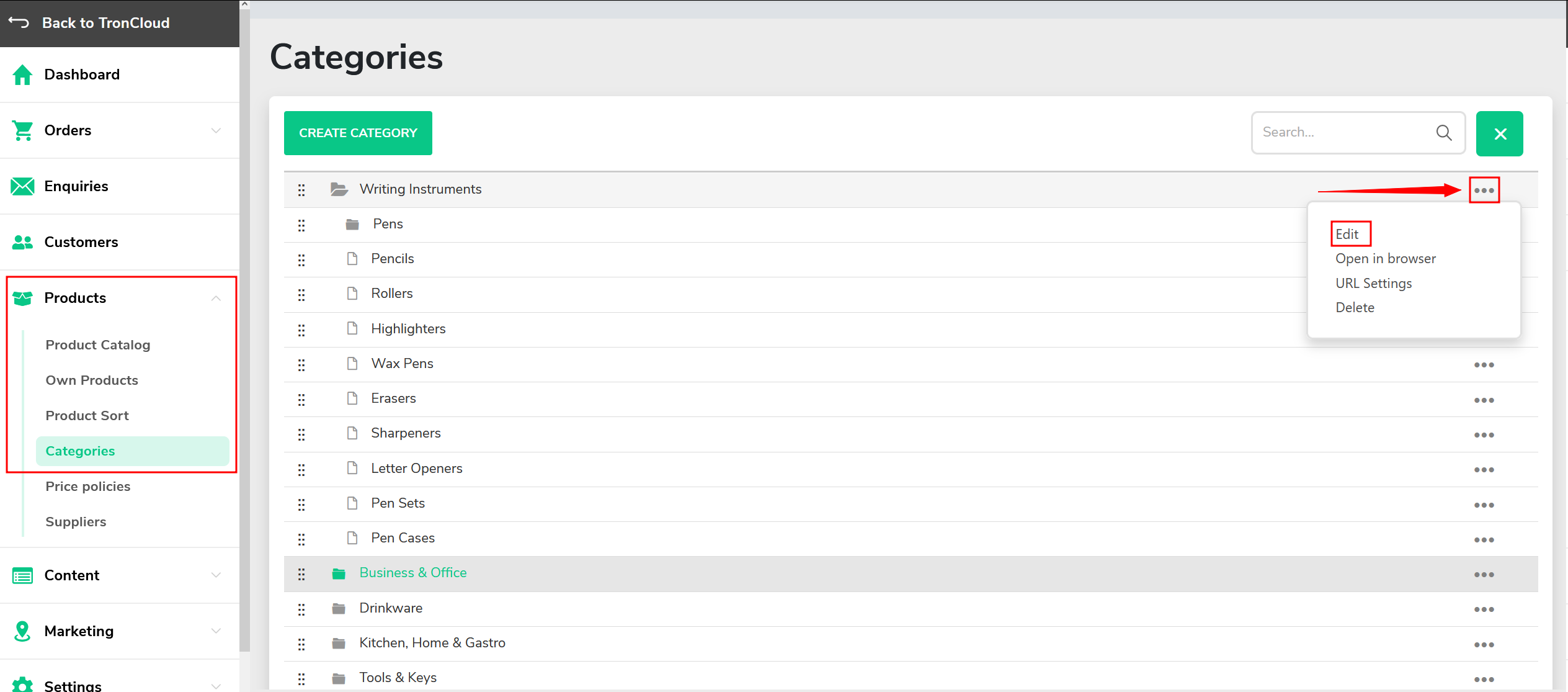 In the world of digital prominence, SEO reigns supreme. A key facet of this optimization is metadata, encompassing titles, keywords, descriptions, and even images. In this brief guide, we explore how these elements impact discoverability and presentation, all within the realm of on-page SEO.

1. Title (H1 & Meta title)
This field is crucial for both search engine optimization and the browser's tab name and Open Graphs name.
Click to see the example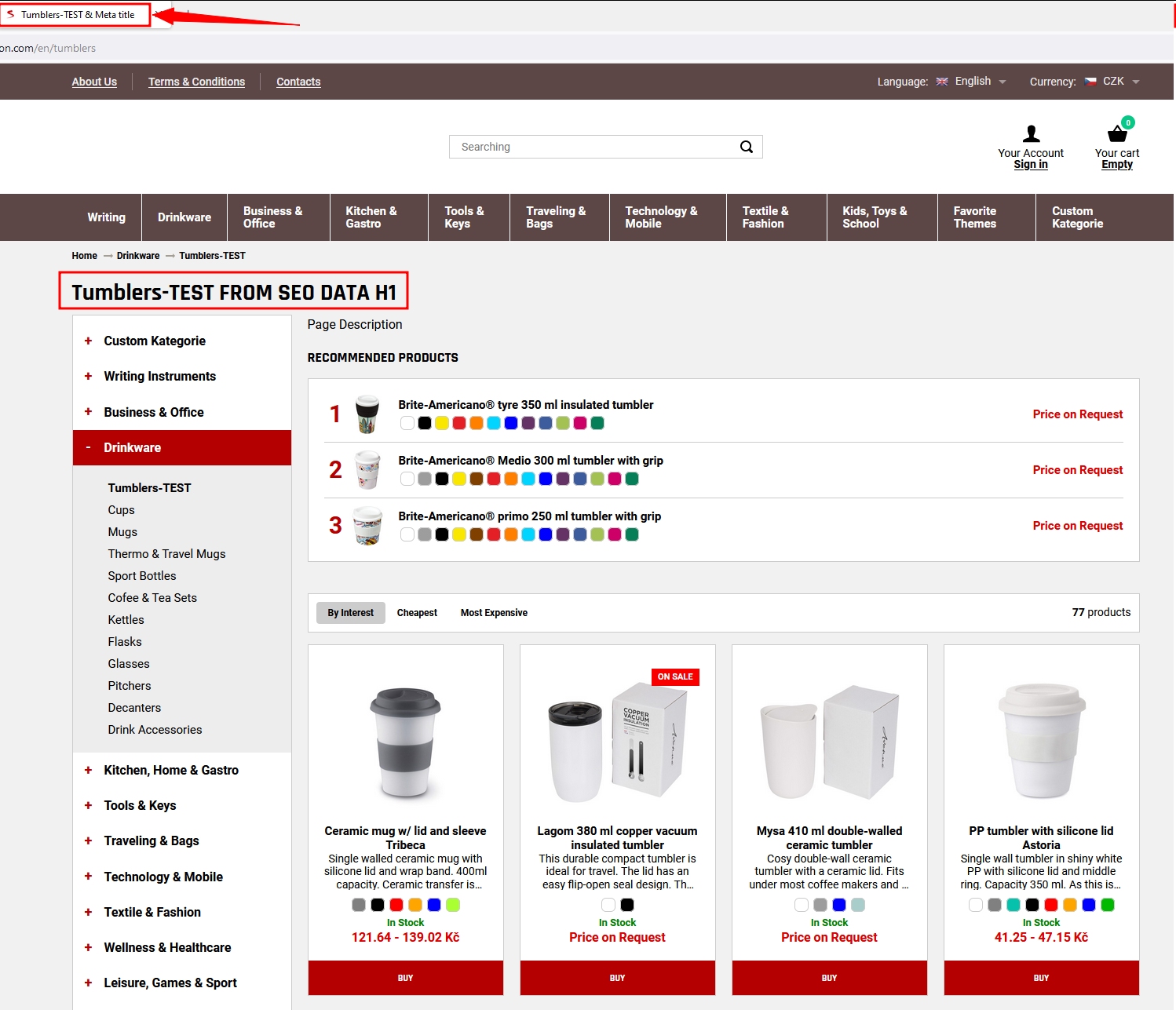 2. Title - H1
Changing the title here will automatically update the section's title, as illustrated in the image above.
Remember to update the text for all available languages. Click on

to do so.
3. Keywords (Meta keywords)
These keywords are primarily used for search engine optimization, helping users find your content more easily.
Remember to update the text for all available languages. Click on

to do so.
4. Description (Meta description)
The meta description plays a significant role in improving search visibility by providing a concise summary of the page's content. It will be visible as Open Graphs description.
Remember to update the text for all available languages. Click on

to do so.
5. Open Graph Image

To share a category link with an accompanying image, you must upload one first. The recommended dimensions for an Open Graph Image are 1200x630 pixels, and it should be in JPG format.
Click to see the example, how it looks if you enter the link into Facebook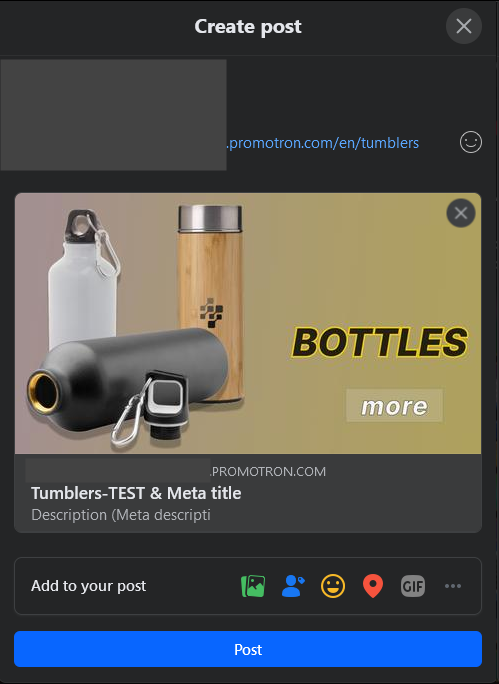 
NEED HELP?
Our dedicated support team is just one call away. We're here to guide you through the customization process, ensuring your PromoTron platform is tailored to your exact specifications. The process of customization has never been easier or more accessible. Contact our Support team!