Customizing your product detail settings is an integral part of shaping your webshop's identity and its value to customers. This guide delves deeper into the intricacies of these settings, detailing their potential benefits and impact on user experience and sales.
On This Page
General Settings
To begin customizing your product details, you need to navigate to Settings > Visual settings > Products Detailon your webshop's backend. Here, you'll find a host of options to choose from.

Set up which informations about product you want to display on your webshop.

Show Product Description
Product descriptions serve as a virtual salesperson, explaining why a customer should buy a product. Highlight key features, unique benefits, and practical applications to encourage purchases. Make descriptions precise and engaging to effectively communicate the product's value.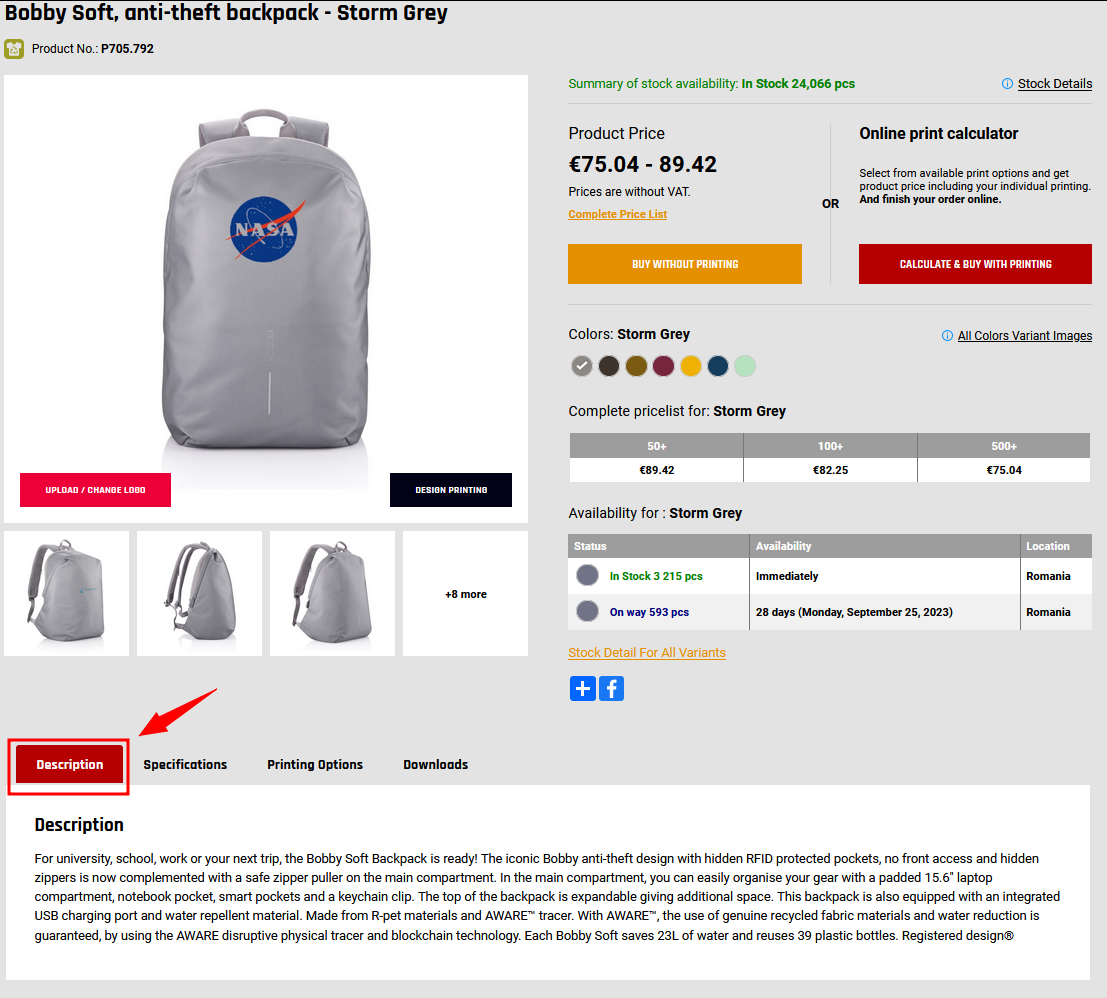 Show Similar and Related Products
Implementing a system to display similar and related products can enhance the user experience by offering tailored product suggestions. This approach not only provides an easy way to discover new products but also increases average order value by encouraging add-on purchases.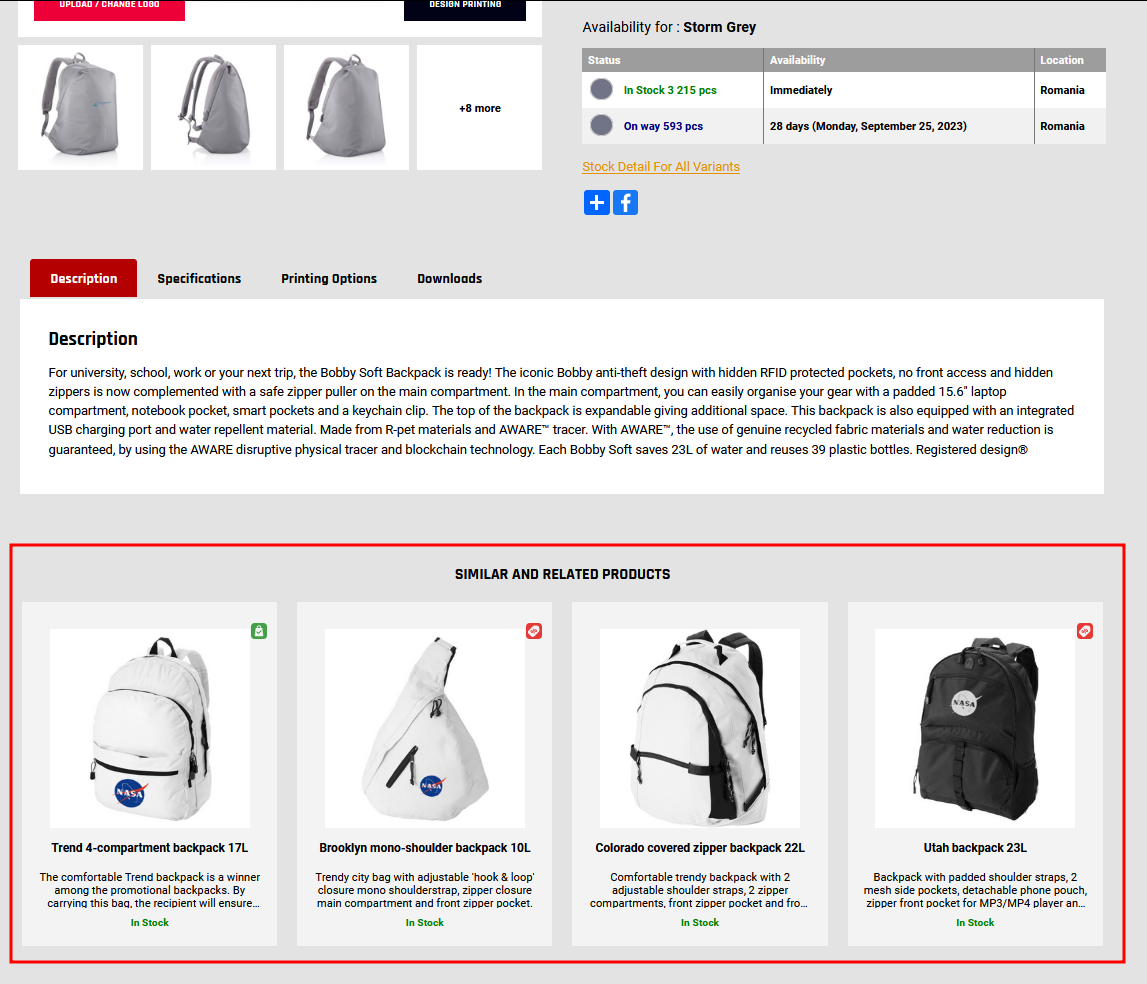 Show Last Visited Products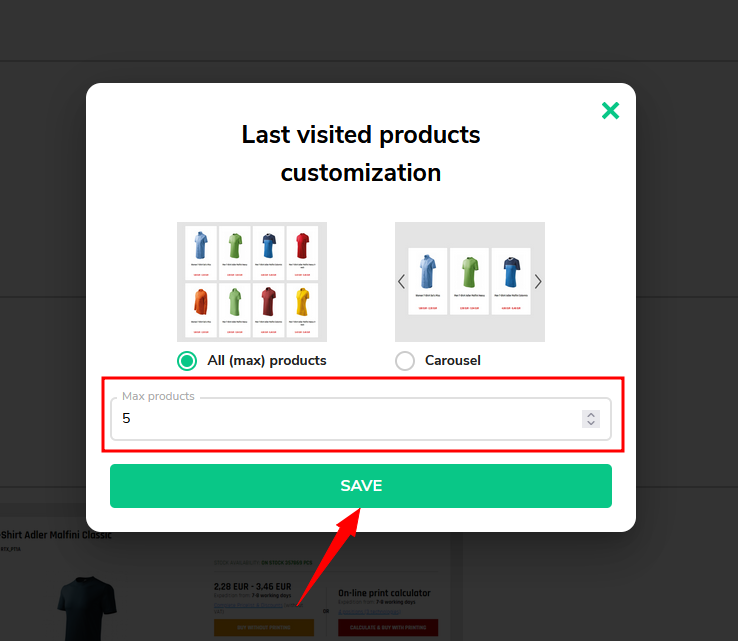 Showing customers their last visited products can enhance user navigation, and provide a personalized shopping experience. Offering customizable settings like determining the maximum number of products displayed, or presenting them in a carousel format, can further tailor the shopping experience to each user's preferences.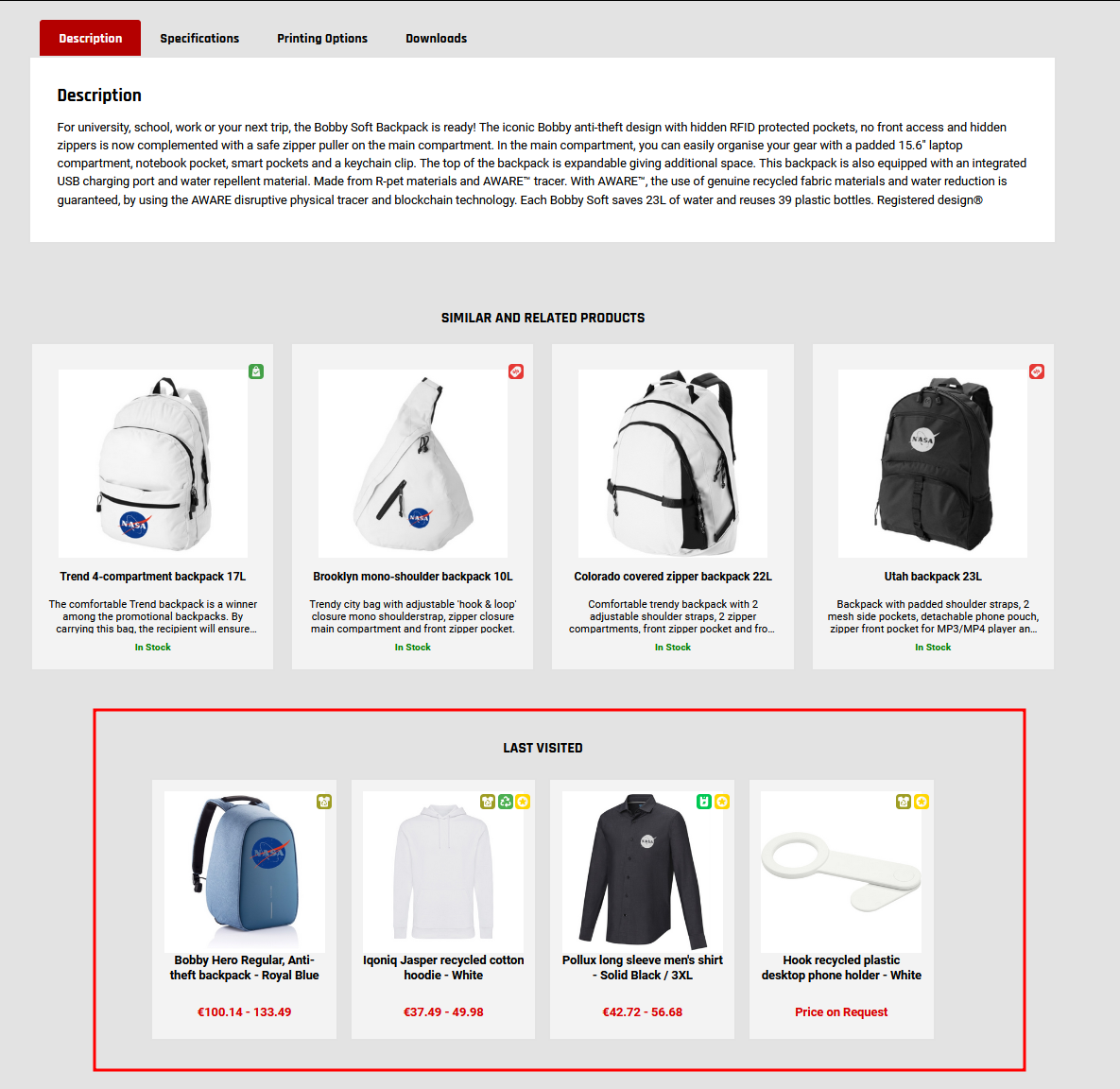 Show Enquiry Form Box
An enquiry form box opens a direct communication channel between your business and your customers. This feature allows customers to ask specific questions or voice concerns about a product, enhancing customer trust and satisfaction.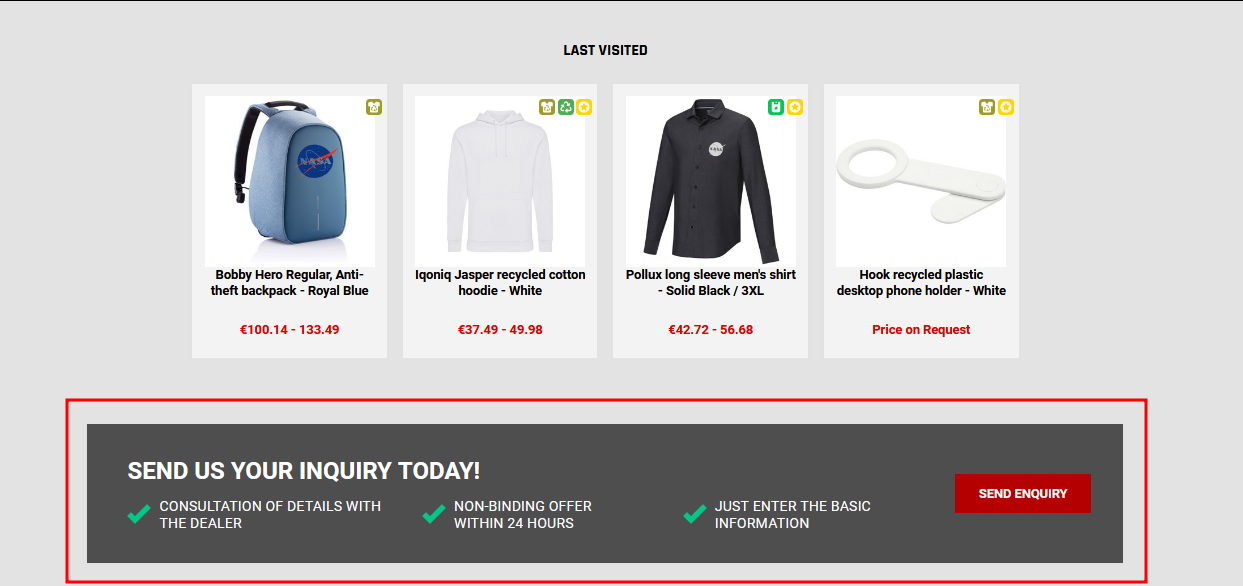 Price Settings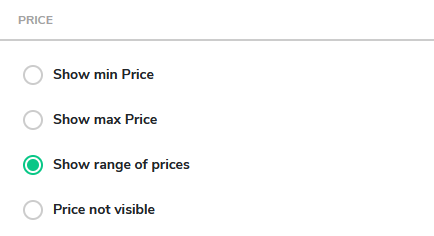 Displaying a range of prices can guide customers towards making an informed purchase decision, especially when a product is available in various models, sizes, or bundles. Revealing the minimum and maximum prices can provide a quick reference for customers with budget constraints.
Show Min Price: This means displaying the lowest price at which a product is available. It's especially useful for customers who are looking for the most affordable option.
Show Max Price: This refers to showing the highest price a product can reach, often based on premium models or additional features. This gives customers an idea of the upper limit of what they might spend.
Show Range of Prices: This involves displaying both the minimum and maximum prices, providing a complete picture of the product's pricing spectrum. For instance, "$10 - $50."
Price Not Visible: A deliberate choice not to display the product's price on the platform.
Stock Availability
Showing stock information can be crucial in managing customer expectations. Displaying basic stock information lets customers know whether an item is in stock. Full stock states provide a specific count of items available, creating a sense of urgency for popular products. Alternatively, hiding the stock availability can be strategic for certain businesses, depending on their inventory management practices.
Basic Info (A simple indication of whether a product is available or not without providing specific numbers.)
Full States (A detailed count of the exact number of items available.)
Hide (No information on stock levels is displayed to the customer.)

In Customization menu you can Activate\Deactivate Stock Table.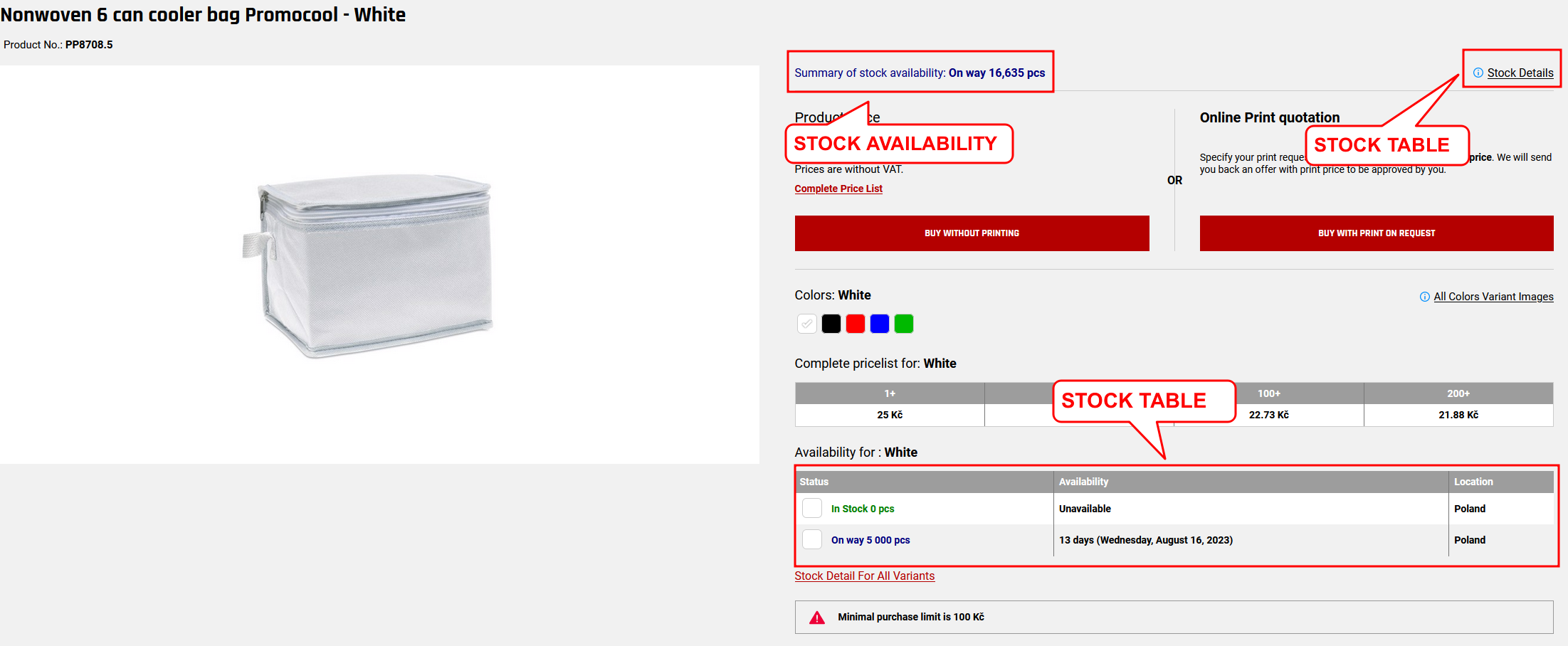 Page Layout

The layout of your product page is central to the user experience. A two-column layout provides room for detailed product images and descriptions side by side, making it easier for customers to absorb information. A one-column layout offers a clean, streamlined design that emphasizes each element of the product.
Two Columns
A webpage design that splits content into two vertical columns. This can allow for parallel presentation of different types of content.
One Column
A webpage design where content is presented in a single vertical column, stretching across the width of the viewable area.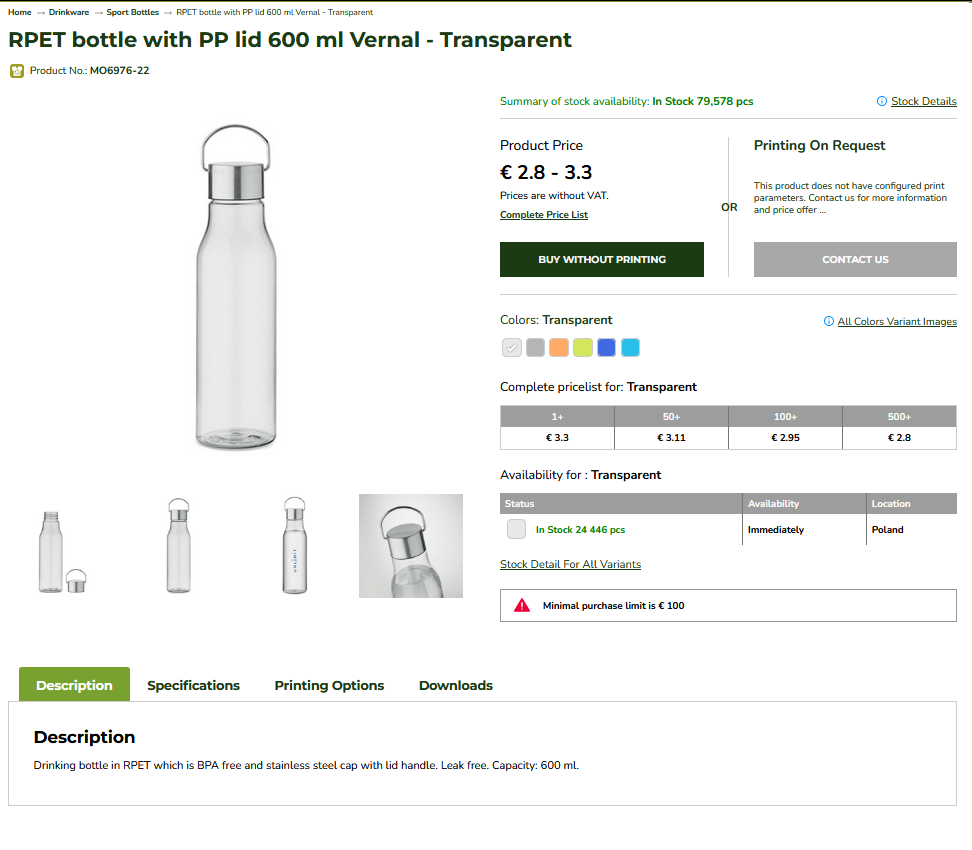 
NEED HELP?
Our dedicated support team is just one call away. We're here to guide you through the customization process, ensuring your PromoTron platform is tailored to your exact specifications. The process of customization has never been easier or more accessible. Contact our Support team!
Indication Layout

Using icons and tags can streamline product information, making it easy for customers to identify key features and categories at a glance. These visual cues can simplify complex information and enhance the page's aesthetics.
Icons - small graphical symbols that represent an object, function, or concept. They are used in digital interfaces to convey information visually without using text.
Tags - labels used to categorize or highlight specific pieces of information. They are often textual but can be accompanied by a certain color or symbol to emphasize their meaning.
Below is a example of FIVE TAGS.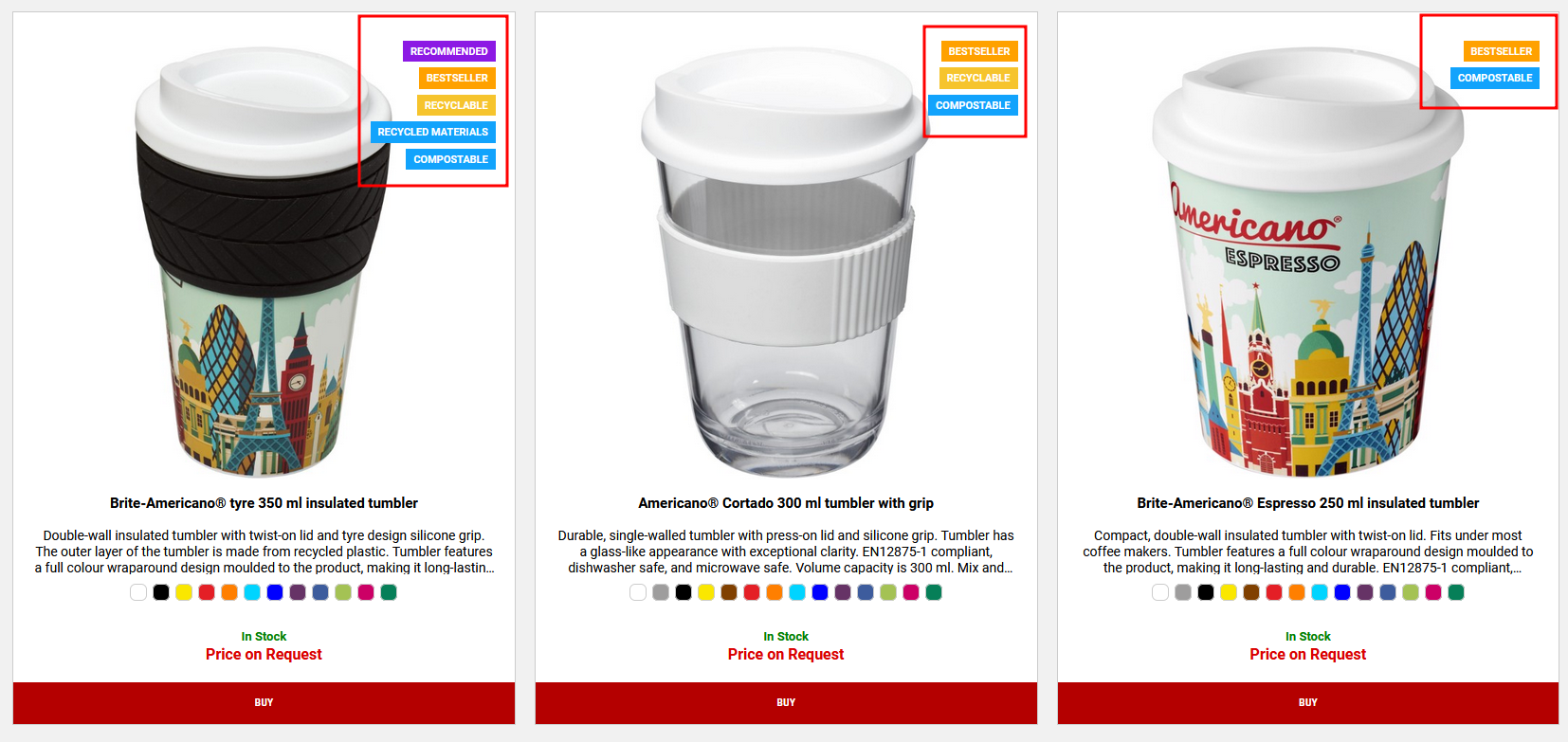 Indication Count

Defining the number of icons or tags to display for each product helps balance the need for information and clarity. Too many icons or tags can overwhelm a customer, while too few might not adequately represent the product. Five is maximum.
Content

Providing additional details like product parameters, printing positions, and stock locations can significantly enhance the buying experience. These specifics offer a more comprehensive understanding of the product, addressing potential queries and establishing transparency.
Show Product Parameters - displays features like the size, weight, material, color, and other specifications of the product.
Printing Positions - The position of a printed design matters. Displaying this information helps customers visualize the final product.
Stock Location - Sharing where the product is stocked (e.g., warehouse location)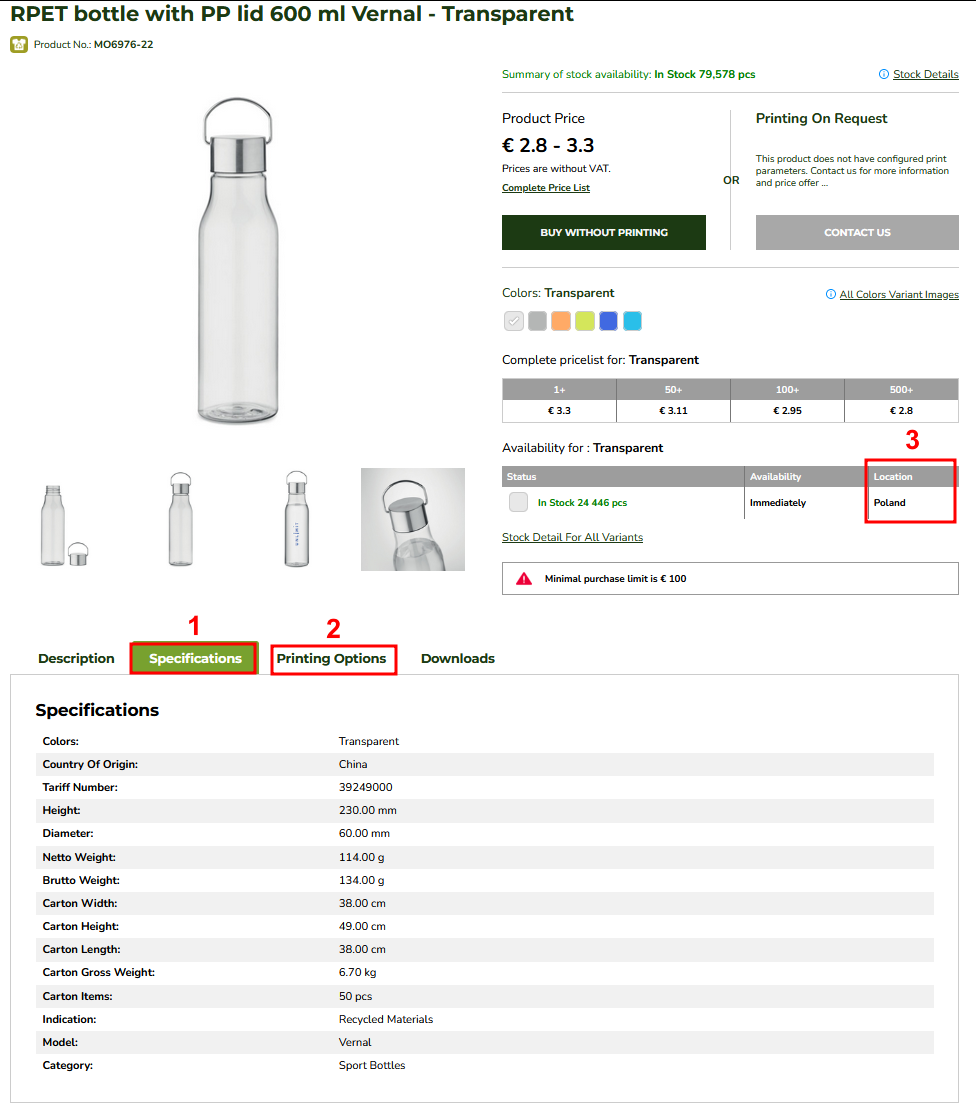 Sharing Options
Empowering customers to share products on social networks, emails, and other platforms can increase your webshop's visibility, reach, and potential for customer engagement. This form of social sharing serves as a free promotional tool that can lead to increased traffic and sales.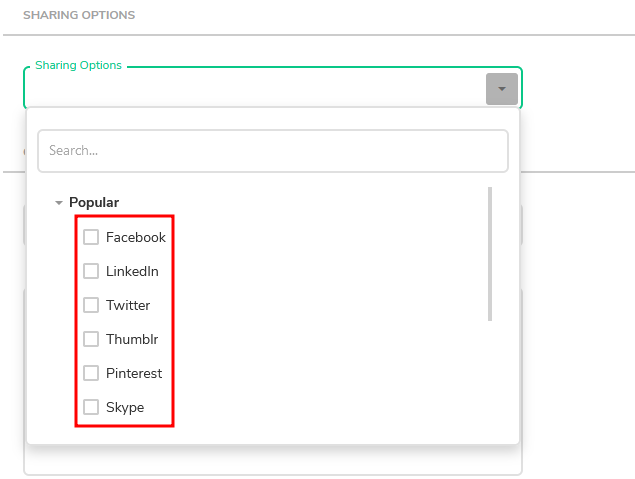 Order Samples
Providing product samples can be an effective way to increase trust and conversion rates. You can customize this feature to suit your business model.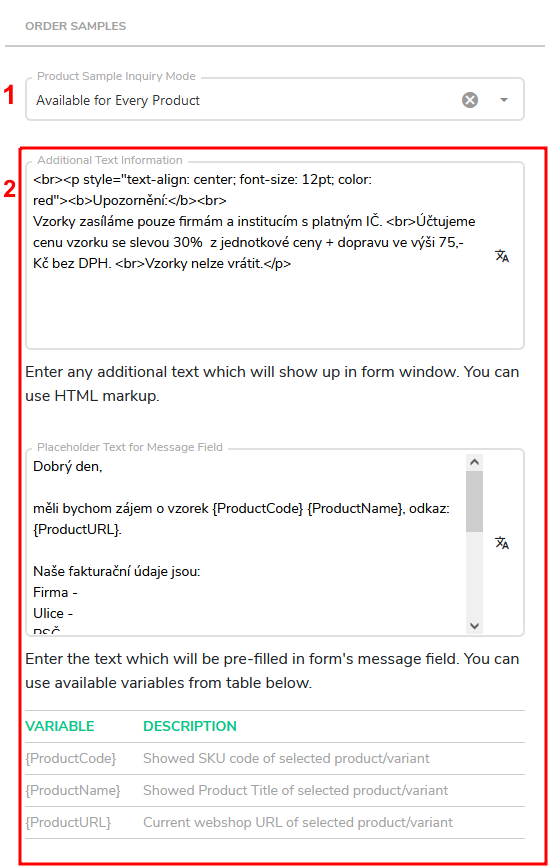 1. Product Sample Inquiry Mode
Disabled Mode: With this setting, the "Order Sample" button will not be visible to customers on any product page.
Available for every product: When this mode is activated, the "Order Sample" button appears on every product detail page. However, it's essential to clearly communicate any associated costs to customers, as only certain suppliers provide free samples.
Only products with the indication FREE SAMPLE: In this mode, the "Order Sample" button is exclusively displayed on the product detail pages of items labeled as "Free Sample" in the supplier-provided data feed.
2. Additional Text Information and Placeholder Text for Message Field
Customizing the text in your sample inquiry form can help guide users and encourage them to request samples. Use clear and persuasive language to ensure the form is easy to understand and engaging.
In conclusion, product detail settings play a vital role in enhancing the customer experience and ultimately, the success of your webshop. By delivering clear, comprehensive, and tailored product information, you can ensure a smooth shopping journey for your customers and maximize your online sales.

NEED HELP?
Our dedicated support team is just one call away. We're here to guide you through the customization process, ensuring your PromoTron platform is tailored to your exact specifications. The process of customization has never been easier or more accessible. Contact our Support team!